Rock Hall Broadens View of Music Genres with a New Nomination Class

The Rock and Roll Hall of Fame recently announced the nominees for the induction class of 2023. While some are classic rock greats, many artists for this year's nomination music are not really considered rock and roll performers, showing that the hall is evolving in its music choices.
People can read the official bios of the nominees at 2023 Nominees | Rock & Roll Hall of Fame (rockhall.com), but a brief look at the nominees is outlined below:
Kate Bush, of recent "Stranger Things" fame for her song "Running Up That Hill (A Deal With God)" has been nominated four times for the Rock Hall, but has not yet been inducted. 
Singer-songwriter Sheryl Crow is not new to the Rock and Roll Hall of Fame; she inducted Fleetwood Mac into the Rock Hall in 1998. Crow is known for songs such as "All I Wanna Do" and "Soak Up the Sun."
Missy Elliott is a hip-hop artist known for her 1997 debut, "Supa Dupa Fly." Her nomination shows that Rock Hall has been recently expanding to rap.
Also in their fourth year of nomination, the Spinners are an R&B and soul group formed in 1957. Their music almost rivals that of the Jackson 5, and they are best known for songs like "Could It Be I'm Falling In Love" and "I'II Be Around."
Do you think this is a good selection class?
Sorry, there was an error loading this poll.
Speaking of artists with several previous nominations, Rage Against the Machine has accumulated its fifth this year. Their debut album came out in 1991 and included "Killing in the Name."
Hard rock, Iron Maiden is considered one of the most influential metal bands. Their debut was released in 1980, and the band has sold 200 million copies to date.
Soundgarden, best known for "Black Hole Sun" and "Spoonman" from their 1994 album "Superunknown," has been nominated for the second time. Their debut album was released in 1988.
The English band Joy Division only released two albums, but they are given the credit by many bands as an influence, including 2023 nominee Soundgarden. 
The '80s queen Cyndi Lauper, known for iconic hits like "Girls Just Wanna Have Fun" and "Time After Time" has also been nominated. Her debut album, "She's So Unusual," was released in 1983.
Originally of Wham!, icon George Michael has also been nominated. In addition to the Wham! hits "Last Christmas" and "Wake Me Up (Before You Go-Go)," he had a strong solo career.
Willie Nelson, a key figure in country in the 1960s and 1970s, was nominated. His first solo album,"And Then I Wrote" was released in 1962.
Influential rap group, A Tribe Called Quest, has been nominated this year for the second time. They were formed in Queens, New York, in 1985.
The White Stripes, known for the stadium anthem "Seven Nation Army," has been nominated in its first year of eligibility. 
And last but not least, Warren Zevon, best known for "Werewolves of London", has been nominated. 
Sophomore Bella Mora said, "I'm going to vote for Kate Bush!"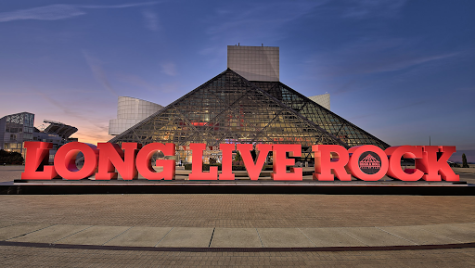 An artist must have released their first record more than 25 years prior to be eligible for nomination. Because of this rule, this is the first time Missy Elliott and the White Stripes could have been nominated.
Sophomore Jaeden Jones said, "I don't even know who some of the artists are. But I do love Cyndi Lauper."
According to rockhall.com, "fans around the world participate in the induction selection process through the Fan Vote.… The top five artists selected by the public will comprise a 'fans' ballot' that will be tallied along with the other ballots to determine the 2023 Inductees."
"It will be cool to see who is inducted in the fall!" said Mora 
The fan voting closes on April 28, and the Class of 2023 inductees will be announced in May a induction ceremony will be held in the fall of 2023. Fans can vote for their top five nominated artists each day at Fan Vote 2023 (rockhall.com)