Season Six of Better Call Saul
Breaking Bad was a hit Television series that first aired in 2008. The show lasted 5 seasons and was called one of the greatest television series of all time. The popularity of this show led to a spin-off prequel of one of the characters, Saul Goodman. This character played the attorney that would help the main characters, Walter White and Jesse Pinkman, out of numerous messes that they got themselves into. This show is called Better Call Saul, and follows the life of Jimmy Mcgill as he becomes who the audience now knows as Saul Goodman.
The show first aired in 2015 and it created a lot of excitement within the Breaking Bad fandom. It takes place during the year 2004 before the events of Breaking Bad occurred. Like Breaking Bad, Better Call Saul is packed with action that will keep any viewer on the edge of their seat. Senior, Erika Gallardo is one of the many Breaking Bad fans out there who was anticipating the 6th season of Better Call Saul.
"My dad had put my sister and I on to Breaking Bad a while ago and ever since we have been obsessed. He told us about the prequel that was about one of our favorite characters, Saul Goodman and we were instantly hooked," Gallardo explains.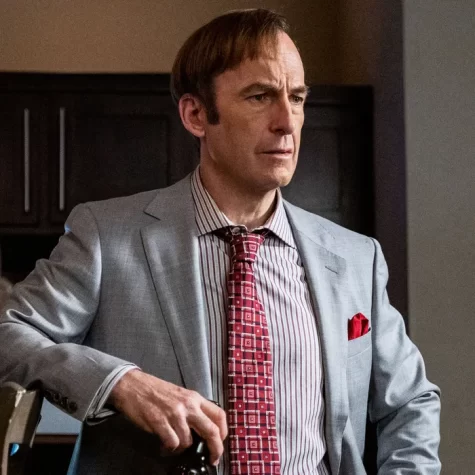 During the filming for Season 6, there were a few setbacks that kept the production on hold. A lot of films and TV shows were affected by the Covid-19 pandemic, including Better Call Saul. Another huge setback was when the main actor, Bob Odenkirk had a heart attack on set, back in July of 2021. It was said that this was due to plaque buildup in his heart which that actor had for a while. Many of Odenkirks's co-stars, friends, and followers spread their love and appreciation for him on social media. Several months after the incident, on September 8, Odenkirk had confirmed he was back on set.
"So happy to be here," he said, "and living this specific life surrounded by such good people."
The sixth season of Better Call Saul had its 2 episode season premiere on May 2nd and had an astounding viewership rating. There will be 13 episodes for this season, 4 of them already being out. The season will be split into 2 halves, the second half starting on July 11, 2022. The first 5 seasons can be found on Netflix, and the sixth season is airing on the cable channel AMC or its newest platform AMC+.
"My sistera and I had been waiting for the sixth season to come out ever since we finished binge-watching the past five. It's such a good prequel and anyone who enjoyed Breaking Bad, will definitely enjoy Better Call Saul" states Gallardo.