Is Jara Still the Superintendent?
On Thursday night of November 18th, the CCSD Board of Trustees held another meeting regarding Superintendent Jesus Jara's contract. On October 28th, the Board made a 4-3 vote to terminate Jara. The meeting on Thursday went through the night and into the early hours of Friday ending with a 4-3 vote to reinstate Jara as Superintendent. Although Jara may be reinstated as Superintendent, he may refuse the position if the alleged hostile work environment is not eliminated. The Board is currently investigating these allegations.
"
In my mind, this further separates the board and puts us behind the eight ball"
— Lisa Guzman
Jara says, "Given the concerns that I have previously expressed, we intend to work with the Board and its legal counsel to determine if there is a pathway that would allow me to continue as Superintendent while also implementing appropriate assurances to address and eliminate the harassment and hostile work environment."
The reinstatement of Jara divided the Board even further. Board Attorney Mary-Anne Miller allegedly had a conversation with Jara's attorney regarding his reinstatement that she refused to pass onto Board President Linda Cavasos. Board Vice President Irene Cepeda says that she knows of four trustees who unethically communicated with Jara beforehand.
Trustee Lisa Guzman says, "I can only come to one conclusion — she [Miller] knew the vote, I did not."
Jara was not able to attend the meeting, instead, he was at Allegiant Stadium supporting the football state championship teams. However, Trustee Katie Williams, a longtime supporter of Jara, says, "As Superintendent Jara considers his options, the Board of Trustees must consider its role and what we could have done differently to ensure we can work together focused on student outcomes."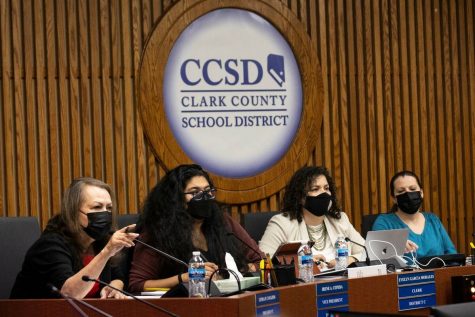 The Board also held a vote regarding if they should start searching for an interim Superintendent. They voted 5-2 not to search for one, with the majority saying they wanted to see if Jara would actually keep the position as Superintendent. They did, however, ask Jara to pick a few names that could be potential interim Superintendents. This deepened the Board even further, with some being uncomfortable with Jara picking the interim Superintendent, should he refuse the position himself.
As confusing as this situation is, parents are even more concerned with how it will affect their kids. With an unsteady Superintendent position and a deeply divided Board of Trustees, parents and teachers alike are concerned with how this will affect the entire school district.