Nighswonger for President??
After 21 years of teaching, 10 spent here at Shadow Ridge, Coach Matthew Nighsownger has announced that he is stepping away from the classroom to run for president in the 2024 election. With this new aspiration he is also stepping away from the field and his coaching career.
This has been a real shock to family, friends, and students as it has been a very unexpected turn of events. While this is a big change, he has received much support and encouragement from loved ones. The change was also quite a surprise to Nighswonger as he was not expecting to leave anytime soon.
"
Have you seen the other options? I am the best candidate for 2024 President! "
— Nighswonger
"I got a large cash donation of 2 billion dollars that was contingent upon running for president," says Nighswonger. "Since the 24th of March when I received the anonymous phone call I have been thinking about actually taking the offer."
Although very unusual, the offer is tempting and Nighswonger believes that he will be a great president. There are so many ideas that he already has that will help America progress.
Nighswonger stated, "We need to secure our water in the west, figure out how more of Gen Z can have families, and make it easier for our young people to go to college and buy a house. Being a teacher, I know some of the issues that are important to the youth. But, I need the youth to vote. They don't vote, that's why old people in America get all the benefits and not the young people."
He is ready to start this process and do what he can to help anyone and everyone. Although it is a very daunting task, Nighswonger is starting his presidential campaign and will be ready to really take action once the school year ends.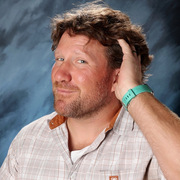 "I know that I need to create some good sound bites and buzzwords that will make people listen to me, even though I am not really saying anything," he stated. "As a politician I just need to get their attention."
Nighswonger definitely will have the attention of his former and current students as well as his colleagues. Everyone at the Ridge is excited to watch as great things will be done for the U.S. It will be hard to let such an amazing teacher go, but the time he will spend in the White House will not be wasted.
Nighswonger's student aid, Nicholi Garavi, senior, says, "I feel like he has a good chance and a huge support system behind him. I tear up a little bit knowing he is leaving but I am proud and excited. I love Matthew."
"
I hope that everyone will miss me."
— Nighswonger
Sophomore, Angelica Luff said, "I would definitely vote for Nighswonger if I could because he is one for the voice of the people! He thinks of others and because he is a coach he knows how to get things done and teach others. He's also a funny dude so he knows how to bring people together."
It is so heartwarming to see the support behind this educator, mentor, and inspiration. This will be a very hard process for Nighswonger to go through but as he continues, it is vital to stay true to himself and look up to his role models.
He said, "My biggest inspiration for my new endeavor is Horatius Cocles."
It is going to be a long process and journey for Nighswonger and all of those involved. It will be exciting to watch him grow and succeed in this new career path. 
"Mustangs 4 Life!" – Coach Matthew Nighswonger