How Award Shows are Adapting to Covid
With the 1 year anniversary of the countrywide quarantine nearing, Award show season (although delayed) is going strong. Many award shows have postponed their air dates due to concerns with covid but keeping up with the new normal are hosting distanced shows. With neither the audience nor the nominees allowed at the shows in person, producers have had a hard time adjusting their shows to be safe but remain entertaining.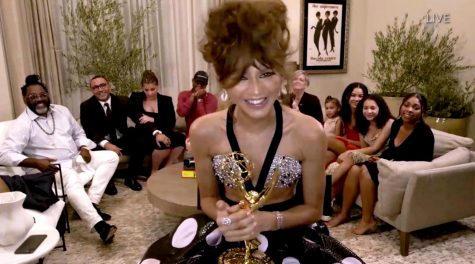 The Emmy Awards or, as host Jimmy Kimmel cleverly referred to them, "pand-Emmys," took place on September 20th of last year and set up the blueprint for how future Covid-era award shows would look. Only the host, Jimmy Kimmel, and a few guest presenters were allowed to be in-person at the awards with guests staying at home and nominees at home accepting awards and anxiously waiting to hear what's was in the envelope. Trophies were handed out to winners by people in hazmat suits who waited outside of nominees' houses until the winner was announced then knocking on their door, according to BBC News. This distanced way of accepting awards led to some amazing moments that wouldn't have normally been able to happen. Zendaya, who made history as the youngest actress to ever win best drama actress, was able to share the special moment with her family. 
"I know this feels like a weird time to be celebrating, but I just want to say there is hope in the young people out there," Zendaya stated while accepting the award. "I know our TV show doesn't always feel like a great example of that, but there is hope in the young people, and I just want to say to all my peers out there doing the work in the streets, I see you, I admire you, I thank you."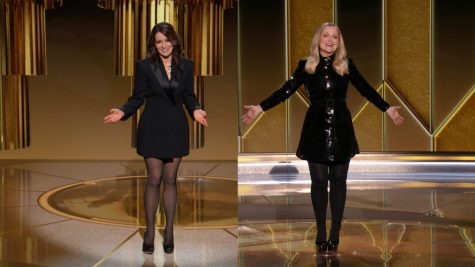 The Golden Globes which were originally meant to be held on January 2nd were postponed until February 28th where they were hosted jointly by Tina Fey who was in New York and Amy Poehler who was in California according to ET Online. Nominees were provided with camera kits to allow broadcasting from their homes which were also done for the Emmys. Instead of the usual star-studded audience, first responders took front row seats to the event.  The Golden Globes, however, were riddled with technical difficulties and surrounded by huge controversies. According to the Vulture, the award show faced relentless ridicule for the nomination of singer-songwriter Sia's movie Music which heavily misportrayed autism, as well as ridicule for the lack of diversity and representation in the Hollywood Foreign Press Association also known as HFPA who are responsible for nominating and voting for the Golden Globe winners. 
HFPA issued a statement during the Golden Globes saying, "We recognize we have our own work to do. Just like in film and television, Black representation is viral. We must have Black journalists in our organization. We must also ensure everyone from all underrepresented communities gets a seat at our table, and we are going to make that happen. That meant creating an environment where diverse membership is the norm, not the expectation…We look forward to a more inclusive future."
The Grammys are set to be held Sunday, March 14, and will be hosted by The Daily Show host Trevor Noah. Safety regulation will be largely the same as the other award shows with nominees and guests staying home and the host and presenters in person. The show was supposed to take place earlier in the year but was postponed due to covid concerns. The show is will include a red carpet with a small amount of media allowed according to Today. Beyonce leads with the most nominations, accompanied by Billie Eilish, Doja Cat, Post Malone, Jhene Aiko, Dua Lipa, and Taylor Swift who all show up multiple times on the Grammys complete nominee list. Trevor Noah, who was announced as the host last November, is excited to host but jokingly told Variety that his only qualm is that the Grammys won't let him sing.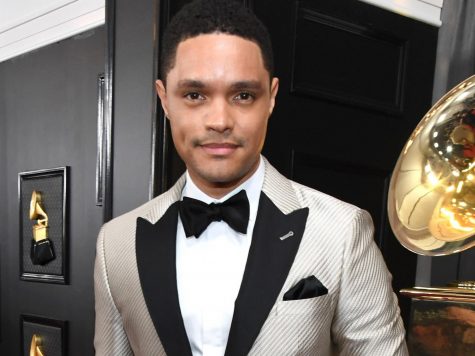 "Despite the fact that I am extremely disappointed that the Grammys have refused to have me sing or be nominated for best pop album, I am thrilled to be hosting this auspicious event," says Noah. "
I think as a one-time Grammy nominee, I am the best person to provide a shoulder to all the amazing artists who do not win on the night because I too know the pain of not winning the award! (This is a metaphorical shoulder, I'm not trying to catch Corona.) See you at the 63rd Grammys!"
The Grammys can be viewed Sunday, March 14 at 5:00 p.m. Pacific Time on CBS, or streamed live through Grammy.com.