Money with McDow
 Reopening the doors after some time, the banking office has finally filled the critical seat of financier with Irma McDow. She has 30 years of experience to help her adapt to this new position. Walking in fresh this year, McDow is starting to get in the swing of things working in the office.
Though McDow is a banker through time and patience, she is also a mother and wife. Balancing these plates can be difficult, but McDow shows more flexibility in her emotions and priorities. 
"My life is dedicated and planned around my family of four daughters and my husband of thirty years. I love going to the beach, reading, and everything Disney. Those are the things that give me peace and make me happy."
She finds solace in getting to put together fun and funky outfits for gatherings and focusing on the small details which make all the difference. McDow has worked with money her entire life after high school, simply paying bills or helping someone pay for their own. After picking apart all the minor details, it has been a long journey to gain all the experience and knowledge she holds now.
"
When I think of Irma I remind myself of how she roots for success, comforts you when you're sad, and makes everyone feel like she's their BFF. She is the type of friend everyone deserves."
— Nicole Jones
"I started as a teller right out of high school and, after working at the bank for about six months, realized that I would make banking my career. What gave me motivation and validation was helping the customers." McDow adds, "I saw that I was changing people's lives, just in regards to helping them cover their mortgage, or when they were overdrawn. There were times when if I paid their check, they would not lose their house."
Finding out that banking consisted of a whole section of personal connections, alongside the financial part the job surrounds, took a toll on choosing McDow's career path and those she managed to help in the process. People often referred to her as their "guardian angel" as she impacted the turn their lives took.
Though McDow knows all the ins and outs of working in a banking system, previous norms are always looked back upon as a new situation arises. 
"The banking industry is a more professional environment where people are in suits and ties. The difference about working in the office now at the school is that it is a lot more laid back; one of the things I am hoping to get people to realize is that although it is a school office, it is a banking office," McDow dives in. "One of my goals is to make them understand that this is serious. It is a legitimate banking structure that needs to be handled with respect and professionalism."
Getting to the point in time where there is a smooth, consistent working environment is McDow's number one goal to meet in due time.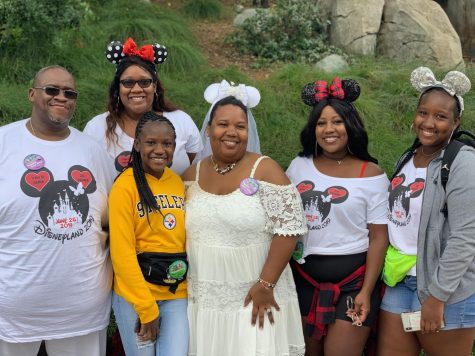 McDow states, "When you are in banking, you almost cannot look at the currency as money. Then it becomes monetary, even though it already is; I see it as dirty paper. So having a temptation is how people get in trouble because they do see the currency value of it."
Planning to make a mark and devote her time to making the banking office a pleasant place, McDow's appearance at the Ridge will impact a lot more than the checks and deposits.