Lucero's Life Underwater
Alessio Lucero, senior, is a swimmer who attends Shadow Ridge. He currently swims for the Sandpipers of Nevada and will be swimming for the school team when the season starts.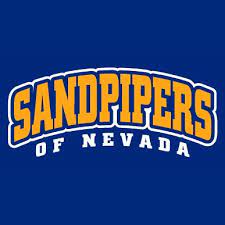 Lucero started swimming when he was 11. He didn't have much interest in ball-related sports. Seeing as swimming was an option for him, he decided to try it out. Ever since then, he's stuck to it. 
"My athletic abilities are god-awful," Lucero tells. "But the first improvement I saw in a sport was swimming. After that, I found it fun to improve my time and I kept at it."
Starting at such a young age jumpstarted healthier habits. His lifestyle would be completely transformed as a way to keep up with swimming's fast pace progression. It has ultimately made him prioritize sleep and focus closely on nutrition. Along with keeping an eye on his diet, his intake of foods has also increased. 
Before moving to Nevada, Lucero swam for a high school team in New Mexico. He moved to the Ridge about halfway through the year and joined the swim team. In that, he has high hopes for this season.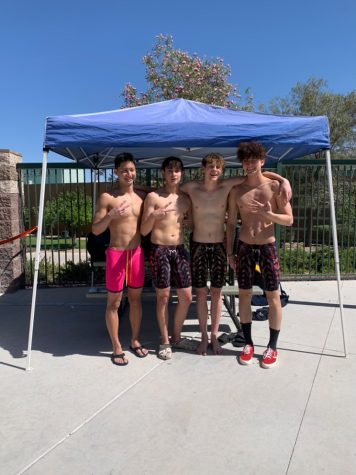 There are many different events within the swimming realm among those events are breaststroke, butterfly, medley, and relays. Of course, the events do not only include these. There are multiple distances within competitions as well– spanning from 50 meters to 1500 meters. 
"My favorite's the 50m freestyle," Lucero says. "It's the shortest event and I can go at my max speed without worrying about pacing."
Swimming takes focus, stamina, and so much more. It's a complicated sport that keeps athletes in tip-top shape throughout their time on any team. Even so, it all becomes worth it in the end.
"[If someone does swim for long enough], they'll shape up a good-looking body," Lucero explains. "But other than that, you'll get in good shape, the meets are fun, and it's a great way to make friends."
Most people tie the sport immediately to the Olympics. With names like Michael Phelps, Katie Ledecky, and Caeleb Dressel, it's difficult to miss. The swimming community, though, has so many more names that deserve more recognition.
Anthony Ervin is an Olympic swimmer that Lucero looks up to. He has won three gold medals in his career, but his path was never an easy one. In 2000, Ervin won gold at the Olympics swimming the 50m freestyle. After this milestone, he quit and almost took his own life. He then returned to the Olympics in 2012. Ervin didn't place top three, but then he came back in 2016. At the age of 35, he placed gold in the 50m freestyle once again. Now, Ervin is the oldest Olympic swimmer to ever win gold.
With so much inspiration, perseverance, and utmost dedication, Lucero hopes to swim when going into college. As he has goals for whichever team he swims for, there is so much more for him beneath the surface.