Netflix's Heartstopper
The TV show Heartstopper has become a hit on Netflix, earning an average of 98% likes from audiences and 4.9/5 stars. The show made its way to Netflix on April 22, 2022 and instantly caught the attention of many teenagers/young adults. The show is a romantic drama that was adapted from the webcomic and graphic novel Heartstopper by author Alice Oseman.
Both the story and the show revolve around a boy named Charlie Spring, who is a schoolboy in his 10th year at Truham Grammar School, that falls in love with his classmate Nick Nelson. Nick is a popular rugby player that's in year 11 and is seated next to Charlie in form class. 
Viewers also get to see the lives of his friends Toa, Elle, Tara, and Darcy. The show represents the LGBTQ+ community and covers many different topics that could speak to many of its fans. Senior, Kayla Fernandez started watching this show because she had heard her cousins talking about it, and she was curious as to why it was becoming so popular.
"I liked seeing how Charlie's and Nick's relationship became better over time, but I wish they included more scenes with Charlie's friends," Fernandez explains.
She has not read the novel yet, but thinks she will in the future.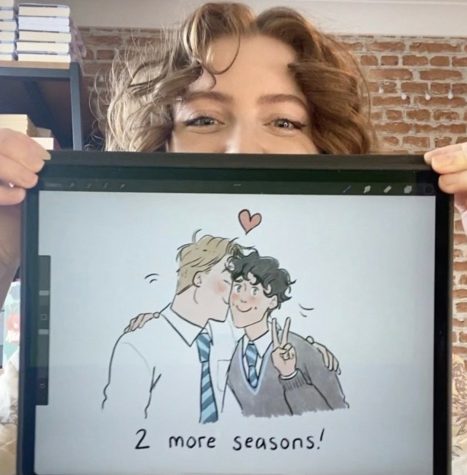 Even though the show just recently came out, fans were excited when @netflix on Instagram confirmed that the show would be having two more seasons. "We were overjoyed with the global reaction to Heartstopper and can't wait to continue the store with two more seasons," says Oseman.
So far, the first season only covers two volumes in the graphic novel, which means there will be more adaptations made to the show. The webcomic has a total of four volumes out, but the fifth and sixth should be coming out sometime next year.
A student who has watched and read Heartstopper is senior, Erika Gallardo.
"I first watched the show and instantly fell in love with it. It just grabs your attention and you immediately feel for the characters. I read the books after and they were even better. Of course it includes more information, but overall it's super good."
She's excited to see how the creators of the show put the writing on screen for the upcoming seasons. 
Since the show launched, it has reached Netflix's top ten list in 54 countries. It has also remained at the top of charts for the past four weeks. Due to the announcement of the upcoming seasons just coming out there hasn't been any information on when they will start the filming process yet. With all things Heartstopper related trending, there will most likely be more news in the upcoming future.