Thor: Love and Thunder
Thor: Love and Thunder is set to release on July 8th of this year and will be the 4th Thor movie in the Marvel universe and the second Thor movie directed by Taika Waititi. Marvel's official teaser trailer showed Thor as he recovers from his depressive state after what takes place in Infinity War and Endgame. 
Entertainment Weekly states, "Love and Thunder is Thor's fourth solo film, and it might just be his most ambitious adventure yet. Director Taika Waititi helped reinvigorate the Asgardian hero with 2017's delightful Thor: Ragnarok, and when he first began brainstorming for a sequel, all he knew was that he wanted to push the character into even more unexpected territory."
This newest film in Thor's storyline tells a tale of Thor going on a journey of self-discovery after 1,500 years of life and battles. The past avenger claims his superhero days are over and tries to put down the hammer once and for all when his plans of peace are interrupted.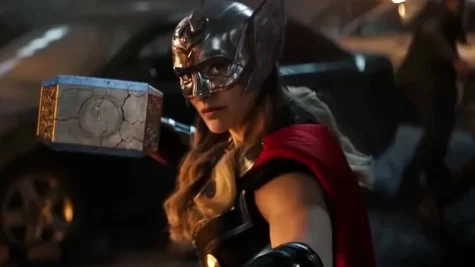 Thor: Love and Thunder will be bringing back Valkerie, played by Tessa Thompson, who at the end of Endgame became Asgard's new king, as well as Thor's beloved ex-girlfriend Jane Foster, played by Natalie Portman, who seems to have undergone a bit of a thor makeover. Waititi introduces a new villain to the story with Christian Bale starring as Gorr the God Butcher. Waititi claims that Gorr will be the best villain Marvel's ever had. 
Senior Jayden Phelps says, "Thor is my favorite character in the MCU and I am really excited to see this film. It's going to be really cool to see Christian Bale in a Marvel movie as a villain."
Although Thor is one of Marvel's biggest characters in the MCU, his individual movies have fallen a bit flat with audiences. Thor: The Dark World suffered from bad reviews on Rotten Tomatoes with audiences claiming that the only interesting thing to come of the movie was Loki's sense of humor. Marve switched things around giving actor, comedian, and filmmaker, Taika Waititi the reigns. Waititi completely spun around Thor giving him a new sense of color, humor, and an overall revamp of the character in Thor: Ragnarok.
Junior Adam Gay says, "I really like what Taika Waititi has brought to the table with Thor. The past movies with Thor have been kinda dull and more serious but the Ragnorak had a completely different energy. Taika made Thor more relatable while also bringing a lot of color to the MCU. I'm really excited to see what this new film has to offer."
Do you prefer the Thor movies before or after Taika took over?
Sorry, there was an error loading this poll.