Mural, Mural in the Hall
After coming back from winter break, students at Shadow Ridge High School in Ceramics II and III started working on their individual tiles for a new mural that will be located in the 300's hall. The mural will be made up of over 300 tiles and will display a picture of running mustangs. Andrea Brackney, the ceramics teacher at Shadow Ridge, has been helping the students move this project along and can't wait to see the final product.
"This is a project that I have been excited about for years," Brackney stated, "I was just waiting for the right group of kids to have the skill to put it all together and really showcase our ceramics program. I look forward to seeing it up in the hallway soon."
The ceramics students have been working hard everyday to get all their tiles completed. Each tile takes a couple days to complete and most students are halfway through the entire process.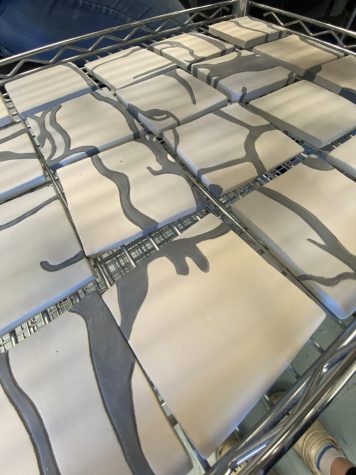 Skylar Nihipali, a current ceramics student, states, "We only work on one tile at a time and take a lot of steps in between to make sure that in the end when it is all pieced together, it will look good and all the tiles will match up. It's important that we take our time on each one because if it's not accurate, it's not going to look right when it's time to put it up."
Every student in Ceramics II and III received a packet of about eight tiles that they are responsible for completing. Inside each of the packets is a mix of easy, medium, and hard tile designs that will be included as a part of the bigger picture.
"It's a very tedious process," Nihipali states, "It takes over a class period to finish only one tile. We have to roll a slab, transfer the design, cut, carve, and glaze each one but everyone has been working hard to get everything done and I can't wait to see the finished product."
Not only is it exciting, but experts say art in schools can be beneficial to students. Not only are the students who are creating the mural learning, but students who view the mural will be engaged and learn also.
The University of Florida's website states, "When we're exposed to remarkable artworks or have opportunities to create, we find that art is crucial to individual growth and development and can even impact our health."