Festival of Lanterns
The Cowabunga Bay Water Park in Henderson is holding the Festival of Lanterns event celebrating the holidays. The Festival is a Chinese-themed event, resembling the actual lantern festivals that date back to 2,000 years ago. The event showcases handcrafted lanterns and sculptures of dragons and other mystical creatures around the water park. The months of December and January will still have the same themes and similar displays but will be coordinated around the winter holidays and Lunar New Year, respectively. The event started on November 5th, and through the month of November, celebrated the Fall Harvest. The Fall Harvest event featured seasonal foods like grilled turkey legs, as well as amusements like the petting zoo.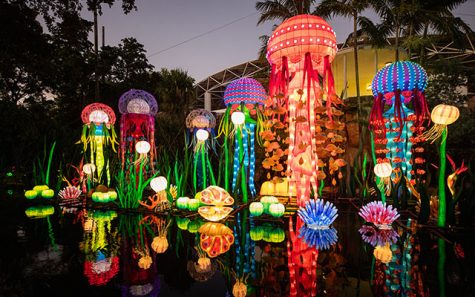 Visitor Keith Morgan says, "Wasn't expecting that. What a great idea for a water park to do during the winter. We loved it!"
The water park will be decorated with festive ornaments and plenty of experiences in December. There will be Santa Claus, Candyland, and even a 20-foot Christmas tree. Cowabunga Bay will also be serving different holiday delicacies like Monte Cristo sandwiches and gingerbread funnel cake.
The owner of Cowabunga Bay, Shane Huish, says, "This is a wonderful opportunity for the community to experience a unique excursion that is the only one of its kind west of the Mississippi. We have partnered with Zigong Lantern Group, the premier leader in the world of Lantern Arts, to bring this enchanted experience to Cowabunga Bay for everyone to enjoy."
"
I'm glad that the community is able to witness Chinese culture in its beauty."
— Katelyn Fisk
In January, Cowabunga Bay Water Park will be celebrating the Lunar New Year. Somehow, the park might be even more amazing than it is in December. Asian culture and cuisine will be at the guests disposal, immersing them in the event. There will also be acrobats and spark shows, along with a 45-foot-long Chinese dragon emerging from the wave pool.
Visitor Sarah Hutchings says, "Such a cool event, me and my family were blown away by the amazing displays, so many great photo ops… and the food was delicious too!"
At 5:00 pm every day until February, visitors can view the amazing displays at the Festival of Lanterns. Tickets are $25.95 for adults and $21.95 for children 12 and under. Visitors with a Cowabunga Bay Season Pass get discounted food and 50% off the admission fee. Be sure to visit Cowabunga Bay Water Park to view the Festival of Lanterns this season!