Hitting the Slopes
Shadow Ridge High School's Ski and Snowboard Club is returning for the new season! February 5, 2022 will commence the annual Ski and Snowboarding Club's day trip to Brian Head, Utah. The trip is open to all skiers and snowboarders of all abilities and experience levels.

The price of the trip is $185, which includes a full-day lift ticket, a ski or snowboard rental, and transportation. Participants are also responsible for bringing their own money for food, as food is not provided on the trip. Students going on the trip are allowed to bring their own equipment, but obviously rentals will be available at the ski resort. Students who have their own equipment will have to pay $150 which covers transportation and a lift ticket for the day. If students have their own equipment and a Brian Head Season Pass, they will only have to pay $75.

Ellie Reese

Students who are interested in going on the trip will need to pay $25 to the banker to reserve their spot. This will be non refundable but will be credited to the total cost. Once  students reserves their spots, they will have to purchase a lift tickets from Brian Head's website. The students will then take this ticket to the banker and pay an additional $50 for the trip. The $25 deposit is due by November 25th and all fees for the trip are due December 17th.

Required items that participants must bring include eyewear, gloves, winter clothing, and a negative COVID test. Helmets are not required but encouraged.

Anyone going on the trip must abide by the student code of conduct which consists of having no F's on his/her report card for first semester, no RPC's or suspensions, and adhering to all departure times. Students luggage and/or personal belongings are subject to search at any time and if alcohol or drugs are found, the student(s) will immediately be removed.

Senior, Stephanie Seymore, who participated in the Ski and Snowboard Club in previous years stated, "It's interesting to see your classmates outside of school. I'm definitely not excited for the bus, the last time we had a trip, our advisor only brought one movie, so we had to watch Ready Player One eight times."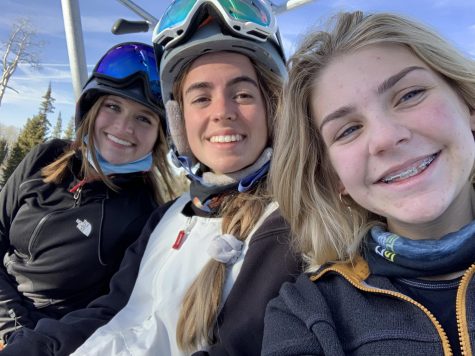 This trip will be a great way for students to relax and blow off some steam, especially since it's a three day weekend. CCSD will not have school Monday, February 7th.
"I'm most excited about spending a fun time bonding with my friends. I love getting out of the Vegas scenery for the day," said Ellie Reese, senior.
Students can stay up to date on all Ski and Snowboarding Club information by following @srskiandsnowboardingclub on Instagram.