"Holding On" to Season Tickets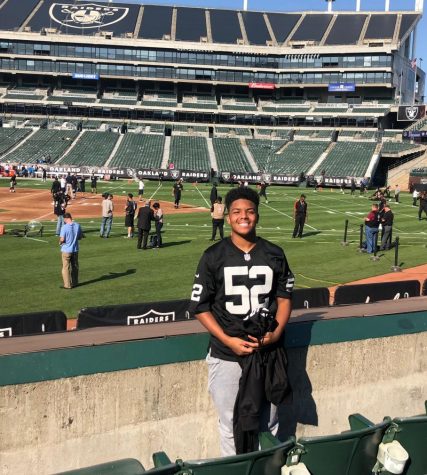 Video Courtesy of: Melanie Nelson
Shadow Ridge students may have heard of the new team that has arrived in town, the LAS VEGAS RAIDERS. Residents across Nevada began purchasing season tickets as quickly as possible once tickets became available, not knowing that COVID-19 would spoil the arrival of the team.  The newly located NFL team has found a new home in Vegas but will have to wait sometime before they are embraced by chants and screams. The Raiders announced that Allegiant Stadium will be closed to all fans for their 2020 season, much to the disappointment of thousands of fans who were looking forward to a fantastic season with a promising young Raiders team.
Dorian McGee, senior, who has been a Raider's fan since their time in Oakland, exclaims, "I don't really know how else to feel except upset and disappointed when it was announced that the Raiders were coming to Vegas, all I could look forward to was the home opener. I swore up and down that I was going to do everything in my power to make it to that game, and now I do not even have a chance. But I will still support my team from my living room and scream as if I was in the stadium."
"
I would bet anyone that the Las Vegas Raiders home crowd would have been one of the loudest in the league."
— Chris Moran
McGee then went on looking at the brighter side of things, stating, "I mean at least I still get to watch my team play, you know. And it is going to be very new to me and all football fans watching a professional football team play a game without any fans in attendance. I can't be too mad or disappointed, though, because my grandpa bought season tickets, and the way things are looking, I will be able to watch my team compete for the playoffs in 2021 and many years to come after that."
Many teams across the NFL are giving season ticket holders a couple of options. Option number one is to opt-out of the season tickets and get a full refund. Option two is to opt-in, which means that the season tickets will be transferred over to the 2021 season, in hopes that the CDC allows large group gatherings and barring any other pandemic-like situations.
Chris Moran, senior, shares, "It makes me sad, it really does. This season is a make it or break it season for my team and everyone knows how important having fans is for home teams. I would bet anyone that the Las Vegas Raiders home crowd would have been one of the loudest in the league. I guess we are just going to have to wait until next year, and we are going to be louder than ever, I promise that."