The Safe Place Podcast
On February 5th, 2021, Lorena Clinton and Miyana Santos, juniors, started a podcast, in their closet, where the listeners can be their authentic selves. They started this podcast to talk about spreading the word of God, teen struggles, worldwide problems, etc. 
"We created a podcast where you can be authentically you. My partner and I believe that everyone around us deserves to be heard and our podcast is just for that purpose. We also wanted to create this podcast because we wanted to spread the gospel the correct way and not shove it in other people's faces because that's pushing people away. We are committed to helping our generation and also saving those who don't know God," states Clinton.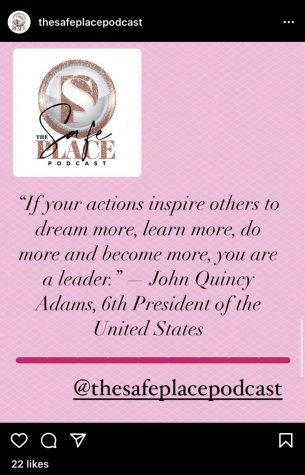 Both Clinton and Santos, want to make sure everyone's voices are heard, and that they only spread the truth. By spreading the truth about every topic, it allows for every opinion to be heard. These podcasts are mainly audio-only, but they do have a couple of short clips up on their Instagram. The girls are yet to have any guests on "The Safe Place" but it is in the works.
Many teenagers and kids have dreams that can be achieved thanks to the social media-inspired world that has taken over peoples'  lives. By having a simple conversation, new ideas and dreams can come about. With a little motivation, time, and help, anything is possible.
"The idea of starting a podcast sparked from a conversation. We went live one day and had a really good discussion and those who were watching said we should start a podcast because the knowledge we displayed in the live should be displayed worldwide," explains Santos.
"
We have a few lives on our Instagram page @thesafeplacepodcast but for the majority of what we have, they're audios. We are creating a YouTube page soon though."
— Lorena Clinton
Even though the podcast is recorded in a closet, and is mainly audio, the girls are working on creating a YouTube channel for a video podcast as well. The 30-minute audio casts are for everyone to feel empowered, and to learn some important life lessons. 
"We have a few lives on our Instagram page @thesafeplacepodcast but for the majority of what we have, they're audios. We are creating a youtube page soon though," said Clinton.
Anyone can listen to the podcast on Anchor, Spotify, Apple Podcast, and Overcast. New ones are dropped every Friday, times may vary. The overall lesson that people can learn from both of these young ladies, is that when a person dreams it, they can achieve it. Even if a person compliments someone, they have changed their entire day. By encouraging people to feel strong, smart, and beautiful both Lorena Clinton and Miyana Santos have made the world a better place.