Circa Resort and Casino Opens Downtown
The Circa Resort and Casino opened downtown on October 28th. Circa is being debuted in two phases as a part of the Fremont Street Experience. Currently, only one phase has begun, which is mostly the opening of the casino. The final opening will be on December 28th.
Circa is a pretty big deal. The property used to be occupied by the Las Vegas Club hotel-casino and the Mermaids Casino. It's owned by brothers Derek and Greg Stevens and is the first new building to open in downtown Las Vegas in over 40 years. The resort features six outdoor pools, five restaurants, and a two-level casino. Currently, it is a 21 and older property, and ID is checked at the door so no one under the age of 21 can enter the building. 
The stadium pool is one of the most unique parts of the Circa. Carla Kay Ryan, a local who checked out the Circa on opening weekend, was pretty impressed.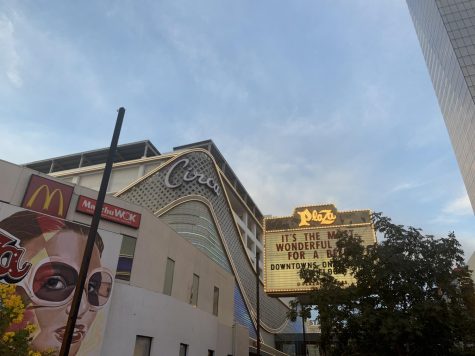 "This is truly a two-story casino with an equal amount of activities on both levels. We felt compelled to check out the pool deck. So glad we stayed and paid the entry fee! It was an awesome array of three descending levels of heated pools, and deck chairs all facing towards another giant TV screen."
Overall, the Circa has a ton of cool features that guests won't find at many other casinos. It's the tallest hotel north of the strip and has 777 rooms. The hotel is themed around old school Vegas and plays into the city's iconic history. Carla Kay's husband John, who's a bit of a history buff, noted some cool aspects.
"It was great to see the return of Vegas Vickie, a classic neon sign initially displayed on Fremont Street as partner to the iconic cowboy seen in all the Vegas Vic movies… It's a callback to the history of downtown Las Vegas, from classic neon signs to commemorative plaques to the old Vegas Sportsbook feel."
The Circa's opening was an overall huge success, and despite the pandemic, the place has been pretty crowded. Regardless of someone's interests, there seems to be something for everyone at Circa.