Guthrie is Moving Up
Ms. Karissa Guthrie is moving her way up this year and has become the newest assistant principal! Ms.Thomas moved to a new school leaving an empty administration spot that was quickly filled. Ever since Shadow Ridge opened Guthrie has been here as a counselor and was previously a volleyball coach as well. After taking some extra courses, Guthrie was able to apply for the open position here at the school. 
She states, "During Covid I went back to school to get my Masters in Administration. I then went through the CCSD Aspiring School Administrators program for the first semester of school and with perfect timing, the assistant principal position became vacant. I put my name in and my interviews with Ms. Kannon and the region superintendent, Andrea Woolmack, went great."
"
In the counselor's office it is different than being in administration and seeing what students and teachers are actually doing.
— Karissa Guthrie
After living here in Las Vegas for 20 years, Guthrie was very passionate about not leaving the Ridge. This her home where she loves the school, community, and people. She is so excited about all the new possibilities that come with this job. 
Guthrie says, "I had the opportunity to go into classrooms and observe and that is what I am so excited to do more of. I get to be in the classrooms with students and teachers, getting to know them better. They will also grow better relationships with me and know me in a different way."
Not only is Guthrie enjoying filling in this new role, but students have been enjoying seeing her move up as well. She has been a beloved counselor and was a coach for many years which allowed many students to get to know her.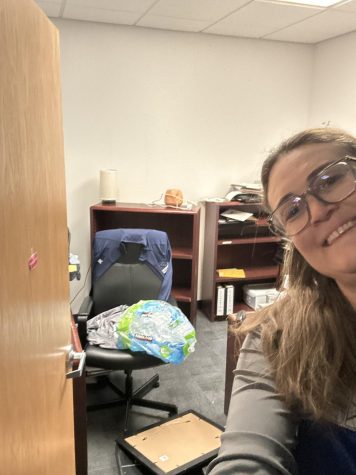 "I really like Ms. Guthrie because she is super sweet and easy to talk to," says Bree Farrimond, sophomore. "She is also really funny and helps anyone with anything they need."
Guthrie is ready to jump in and be more involved in her work around the school. After graduating college she has been working in different school districts and has spent most of her time as a counselor. Now as an administrator she knows what she can do to help Shadow Ridge strive. 
Gurthrie stated, "Especially in the role of activities I am excited to continue to see and be involved in all activities and what students and staff are accomplishing. Everyone is doing phenomenal things and I can't wait to see what happens toward the end of the school year."
Getting to see the many accomplishments school staff are making is so amazing and they are truly what keeps Shadow running. It is going to be exhilarating to see what Guthrie can achieve in this position.