Super Cooper
Managing the life of being a student-athlete can be extremely difficult, with time divided between the rigors of school and the toughness of a sport. Cooper Fisk, senior, has not only met the ideal of being a student athlete, he has dramatically exceeded it. Fisk is one of the two valedictorians this year, being tied with Trent Smith, senior, for top of the class. On top of his studies, Fisk has participated in both cross country and track this year, keeping his eyes on the prize in the classroom and on the race courses. He loves distance running and has been doing it competitively since his freshman year, yet his path has not been easy. Due to NIAA protocols, Fisk, having gone to Cimarron his freshman year, couldn't race his first two years of school. His first real season of racing was his junior year of track, which was a rocky start with a close loss for the boys team at regionals. He has certainly had a successful final year of high school, boosting his astounding grade point average to 5.75 and contributing to winning regionals in track. There's only a little bit of time here left for Fisk, but he has big hopes for the future.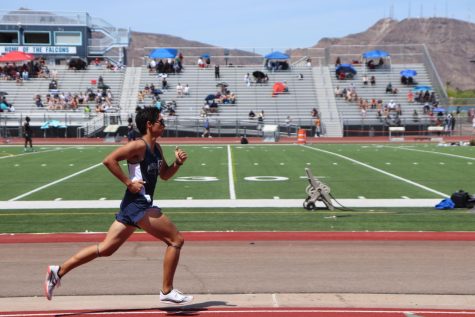 He plans to continue joining competitive races, with several marathons in his future. Fisk also expects to ace the exams so he can close out the year as valedictorian and speak at graduation with Smith.
Fisk shared, "I'm really grateful for the opportunity to run this year and the time I got to spend with my team. Although I couldn't make it to state in track and cross country I'm still happy with the progress I made and that I could finish the season with some PRs."
"
Down for core!"
— Cooper Fisk
He broke five minute in the mile for the first time at regionals on Saturday, May 7th. Aside from that, he spent his first and final season of racing in cross country as a member of the varsity team. Fisk was a captain on both teams and helped welcome a new generation of runners to Shadow Ridge this year, leaving a lasting impact on the school's future.
Dennis Speaks, fellow senior captain, said that, "Cooper has been an amazing friend and teammate. In track, he helps lead the team with me and has inspired me with how much grit he has. His work ethic goes way beyond track so it is no surprise that he is our 2022 valedictorian. I aspire to be like him."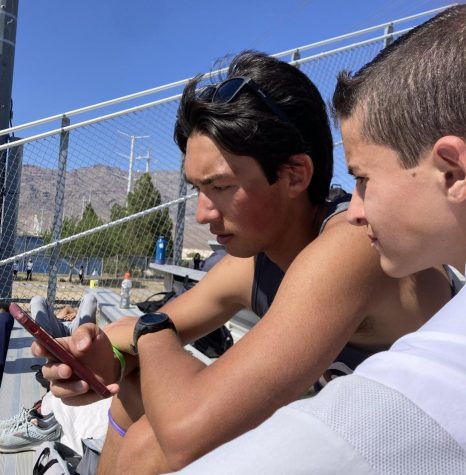 Fisk has not only been a great leader to his teammates, but he has also been a valuable asset to the coaches.
Mr. Flynn, who coached both the cross country team and the distance portion of track, explained, "Cooper is one of the most hardworking, dedicated, and resilient runners I've had the opportunity to coach here at Shadow. He's never been afraid of the tough workouts and he's always put the team first. As a captain, he was someone I could turn to when things needed to get done, and I'll certainly miss seeing him pushing his limits on the cross-country course and the track. When I think of a tough runner, I think of Cooper."
After all of his success in high school, it's no doubt the future will be bright for Fisk. He intends to serve in the Taichung, Taiwan Mission for The Church of Jesus Christ of Latter Day Saints. Upon his return, he expects to go to Utah State University and major in Electrical Engineering with an emphasis on sustainable energy and electric vehicle development.