Fielding Having a Field Day Planning Activities for Fall
Sophomore Class President, Gracie Fielding, is having to adjust her expectations of what this year will look like, alongside everyone else at Shadow Ridge.
"If I had the choice to not be class president knowing this would happen, I would still want to be class president, although I'm not going to be able to do the same things other class presidents have been able to do, it'll definitely be a learning experience for everyone and a story for the future."
Fielding was looking forward to the opportunity to plan dances, assemblies, and different events for the student body but has quickly adjusted her plans.  She doesn't think the fun school activities should have to stop because of the quarantine, and she encourages others to get involved, in a socially distant way, of course.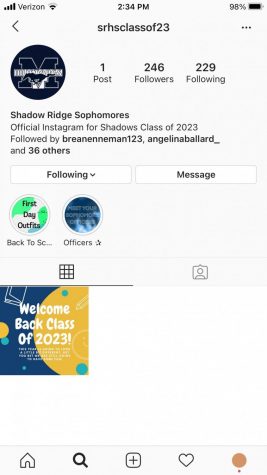 "I think it would be really fun to do a type of geocaching and you could go around to different places around town or different websites and scan a QR code and there would be a prize for the winner," says Fielding.
Obviously, she would rather be doing all of this in person since she describes herself as "extroverted and loves interacting with people in person," but she reflects and says, "I think It's a good way to learn and grow. I've become really close with my class officers and my peers in Student Council while social distancing. I hope we can go back to school in January so that way we can make the last couple of months really count."
This is Fielding's second year in Student Council. She said it is very fun to be involved all year round and do a bunch of different things for the school. Her favorite part of being in Student Council, and being class president, is the involvement and being a part of all the meetings and Shadow Ridge community. She was especially interested in becoming involved in the e-board and to be able to be a part of the events Shadow Ridge would have.
All sophomores, and staff, are encouraged to follow the Sophomore Class Instagram account (@srhsclassof23) to get updates on the school year and possible upcoming activities.