Golden Knights Release Two Brand New Jerseys
Check Out the New Alternate and Reverse Retro Jerseys
The National Hockey League has always had many jersey changes throughout it's history. The Vegas Golden Knights, in their fourth ever season, have debuted a brand new alternate home jersey, and a special Reverse Retro Jersey.
The alternate jersey has been a long time coming. "This is a fantastic jersey. It's the first metallic jersey in the NHL. It took seven iterations to get it right. I saw all the iterations and kept trying to get it a little bit different. It needed that shiny metallic gold, not just a recessive gold or yellow like many other jerseys have been. This is really going to pop on the ice and in the stands," said Vegas Golden Knights owner Bill Foley during the press conference after the jersey's reveal.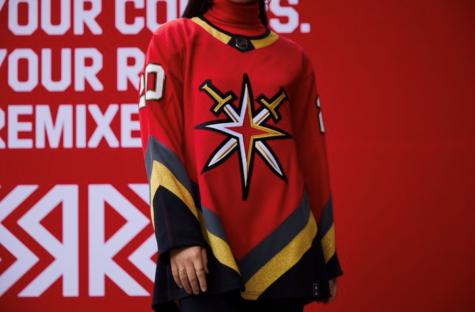 Senior Lexi Strickland said, "I really like that the gold is front and center, and the contrasting colors on the sides. I also think that the red strips also give it an additional pop."
The National Hockey League has a new jersey for every team this year as well called the Reverse Retros. They are to commemorate the past of every team, but with a twist. While the Golden Knights have only worn two jerseys in the past, they decided that for their Reverse Retro, they would tap into the history of hockey in Las Vegas.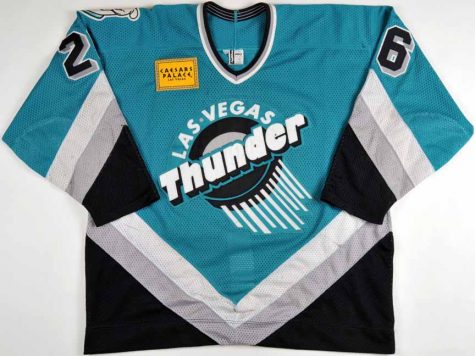 The Jersey is a reference to Las Vegas' two previous pro teams. The IHL's Las Vegas Thunder, and the ECHL's Las Vegas Wranglers. The striping pattern is a reference to the Thunder, and the red color is a reference to the Wranglers. They also have the Golden Knights secondary logo on the front of a jersey for the first time. The alternate logo is the star on the "Welcome to Las Vegas" sign, with two swords crossed. "I wish that it was a bit of a darker red, but I like the call backs to the history of Las Vegas Hockey. I like how big the alternate logo on the Reverse Retro jersey," said Strickland.