Brock Purdy: Mr. Relevant
The San Francisco 49ers, five time Super Bowl winners, have faced much uncertainty and surprise this season to say the least. Jimmy Garoppolo, Trey Lance, and Josh Johnson were all expected to start at the quarterback position before last year's Mr. Irrelevant, Brock Purdy. Due to injury of each of those quarterbacks higher on the depth chart than Purdy, he was shoved into the spotlight, and has performed exceptionally well.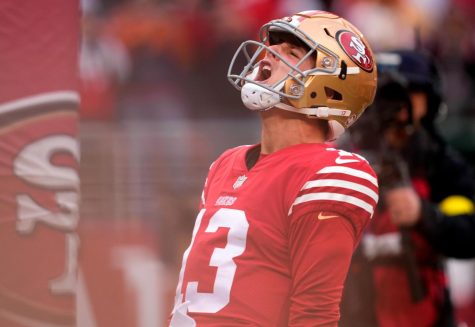 Mr. Irrelevant, a title coined in 1976, refers to the very last person drafted in each year's NFL draft. Because these players are the very last drafted, they are not usually expected to play very well. Each of them have potential, however, and one in particular, Ryan Succop, kicker for the Kansas City Chiefs, has put up 1,430 points over his fourteen years in the NFL. None of them, however, have had such a successful season as Purdy has.
Purdy has only lost one game at starting QB, winning eight straight games. Watching those in front of him become injured one after another, he could not have expected to take the field when he did. During his first game, Purdy scored three passing touchdowns and one running touchdown. His key to success? Never getting too high or too low- staying in an emotional neutral zone to lead his team for those eight straight victories.
To NBC sports, Purdy explained this wise mentality.
"The minute I start to go down or anything like that, and start getting flustered, I feel like, obviously, guys will feel that and feed off of that," Purdy relayed. "I've just got to play my part, do my job, and keep things nice and calm, cool and collected, even if someone else messes up, too."
Sadly, Purdy could not keep up his all star behavior forever and tragedy for him struck during the NFC Championship game against the NFL's #1 seed, the Philadelphia Eagles. During only the sixth play of that game, damage was done to Purdy's UCL, and was torn when Purdy went back into the game after the only other quarterback, Josh Johnson, sustained a concussion. Throughout this shroud of doubt covering Purdy, however, he is somehow able to focus on what is important.
Who is your favorite QB?
Sorry, there was an error loading this poll.
To NBC Sports, he again detailed, "But in terms of who's going to be the starter and who we're bringing in or any moves, we didn't cover any of that. Honestly, I didn't want to hear about anything. I just want to focus on my recovery right now and what I have to do for my arm."
Although the future is uncertain after this injury, Purdy is no doubt backed by his teammates. General Manager John Lynch spoke on KNBR's Tolbert and Copes about the pride he has in the young QB.
As restated on 49ers Web Zone, Lynch said, "I think we've seen he's got some play-making to him. He can extend plays. So there is a lot of confidence, and a credit to Brock, that has been earned 100 percent."