Diving into the Swim Season
As the season gets closer to starting, new and experienced swimmers alike are refining their skills at swim intramurals. Swimmers like senior Brea Nenneman, one of the swim captains, absolutely loves swim and only has good things to say about it. Nenneman talks about how intramurals are a great help to any individuals who haven't swam before. 
"Intramurals are very helpful for anyone who hasn't swam before, it goes over the basics and helps us get into shape before the season starts," Nenneman explains. "To prepare for swim, the best thing to do would be to come to intramurals."
Both coaches, Michael Harris and Steven Bedingfield, are looking for swimmers who want to work hard, who are committed to their own growth and that of the team's. Coach Harris advises swimmers to get to know the team, do club swim, and go to the swim clinic/intramurals. Intramurals are on Mondays, Wednesdays, and Thursdays at 2:00-3:00 pm at the Centennial YMCA (6601 N Buffalo Dr, Las Vegas, NV 89131).
Coach Bedingfield says, "Swimmers can prepare for the upcoming spring season by participating [in a]…sport to increase their cardiovascular endurance before the season officially begins at the end of February."
Sophomore Dylan Hackman does club swim so he can't make it to intramurals but that doesn't stop him from recommending swim to anyone and everyone. Hackman states that by the end of the season swimmers will be in the best shape they have ever been in and the people on the team will change their lives.
"I am so excited for the coming season because I love every second of last season from friendships to swim meets to team dinners every Friday before a swim meet," Hackman explains.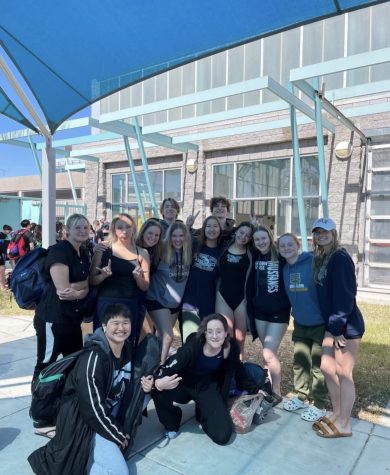 Rhea Wojack, a senior at Shadow ridge, has been swimming for a very long time and states that every single time she does it, it feels different. Sometimes it is a stress reliever, or a bit of competitive fun. Wojack states that it is all that but most importantly the bonds that a team forms. She explains that there are going to be practices that aren't easy but she knows that there will always be a teammate in the next lane over that a swimmer can sympathize with.

"…the long days at the swim meets where it's hot and you're tired but you hear the team cheer and suddenly you have a burst of energy before getting out and starfishing on the cement after all your muscles give out," Wojack says.