Singing Into Our Hearts
  Shadow Ridge had their first choir concert of the year on October 5, 2022. They are currently practicing for their winter concert on December 7, 2022. They were excited to start back up in the new school year.
Sophomore Rylee Cainglet is in the Intermediate Choir this year, but she's been in choir since 5th grade. Being in a high school choir differs significantly from a middle school one.
"My middle school choir was after school every Wednesday, so I didn't really have that much time to actually get to know the people there," Cainglet says. "When you're in high school, you have a lot of time to get to know everyone, it's crazy, and it leaves a huge impact on you."
A lot of people get nervous when they are performing in front of that many people. It's a normal reaction, but they must get over that feeling and sing.
"I like the feeling I get when I'm on stage, it's like a rush of adrenaline going through your body," Cainglet states. "It's great to see the crowd's faces once you perform, and also getting to see your classmates' reactions when you finish singing is amazing too."
Choir concert
Show your support for our amazing singers!
Senior, Josie Gordon, is in the Chamber Choir. Being in choir has helped show Gordon more about herself than anything else before. The Chamber Choir is the choir that comes out in between the other ensembles. They ensure a constant flow of music rather than empty silence while the choirs go on and off stage.
"Choir has given me a foundation of myself that I never knew I had," Gordon explains. "It made me more confident, happy, and excited to be at school!"
Senior Summer Conboy is also a part of the Chamber Choir. Conboy has been in choir for eight years, bringing in new experiences and new friends.
"My favorite thing about concerts is, of course, singing on stage, but whenever the chamber stands in the hallway, we always whisper, singing our next song, and having a blast just dancing together and enjoying each other's company."
Conboy has gone through some struggles regarding mental health. The choir has let her get away from it all and lift her spirits!
"Choir has saved me," she says. "My mental health is not the greatest, and even on the worst days, choir lifts me up and changes the way the rest of my day goes."
Sophomore Ethan Fisher is in his first year of choir, meaning this was his first concert. This brought in many new feelings.
"When I was about to get on stage, I started feeling super nervous," he says. "When I got on stage, I got excited and happy. It was more relaxing after that."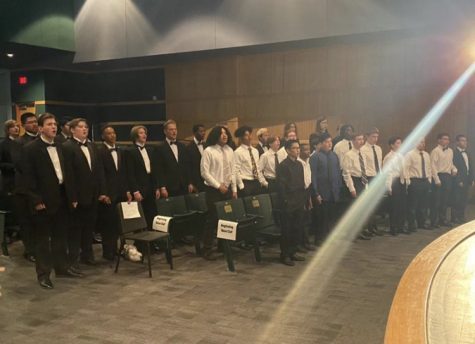 Even though Fisher was initially nervous about the concert, he's glad he stuck it through because, in the end, it was so worth it.
"My favorite thing about the choir performance was when everyone clapped and screamed at the end of each song." Fisher says, "It made me proud of myself and my group."
Choir Director James Halvorson has been directing in the school district for about 15 years but, in total, about 30 years. He has the experience, and he wants others to know what choirs are all about,
"Choir is a great place to be; it's a great way to have an activity for which you can get a grade," Halvorson says. "It's during the school day, and there are not many other classes where you get to go and have as much fun as we do in a classroom."
Halvorson is grateful for the classes he has. Still, having more people to share this opportunity with is always better.
"We're always on the hunt for more guys in our program. For some reason, boys on our campus don't seem to think that singing in groups is cool, which it is!"