Mustangs at Allegiant
The Shadow Ridge Mustangs took on Silverado in the 4A State Championship and suffered a heartbreaking loss. The score was 27-61. The Mustangs seemed to struggle from the beginning, not showing all that they were capable of, but the Shadow Ridge Mustangs will for sure be back next season, stonger than ever. The Mustangs have a good chance to return to the championship game because a majority of their team this year consisted of  juniors and sophomores. The Mustangs also had a very good junior varsity team who went 9-0 this year, seemingly blowing everyone they played out with the exception of a couple games.  Next year will be a year of reloading, not rebuilding.
"
It was a great environment. not only that it was exciting to be able to tour the stadium.  What made it all worth it was seeing our Mustangs be able to compete for a state title, and our students cheer them on in the stadium."
— Karissa Guthrie
The coolest part of the state championship game was that the Shadow Ridge Mustangs were able to play at Allegiant Stadium which is a 2 billion dollar stadium.  Allegiant Stadium is a domed stadium located in Paradise, Nevada. It serves as the home stadium for the Las Vegas Raiders of the National Football League and the University of Nevada, Las Vegas Rebels college football team. This was a very cool opportunity for everyone who attended this event, especially the players who were able to go in the locker room and get a tour of the stadium. Even though it wasn't the outcome the Mustangs wanted it was an amazing experience for the players and the fans.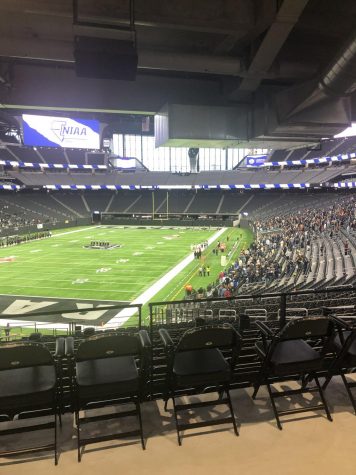 Sophomore linebacker, Diego Faulkner, who was able to play in the State Championship game on Thursday stated, ''It was so cool playing on a field that you know some of your favorite NFL players play on. Not only that but the atmosphere was insane even though they weren't using the whole stadium,  there were still a lot of people there for a high school game."
Jeremiah Campbell who also played in the game stated, "It was super cool. Not only being able to play on the field but getting the whole experience such as being able to walk out of the tunnel and also being able to use the lockers that the Raiders have, it was really nice of the Raiders to give us this opportunity."
No matter the outcome, the community of Shadow Ridge High School is proud of all that the team accomplished this season and it looks forward to a great year next year.