Shadow Ridge Women's Volleyball looks to "Defend the Ridge"
The Shadow Ridge High School Women's Volleyball Team has been known to have a winning tradition throughout the years, even bringing home a state championship banner. This program has been the epitome of the athletics mantra, "Defend the Ridge" throughout the years.  They are hoping they can keep playing at the high level that they have been used to in the past despite the COVID year off. They look to pick up where they left off, and continue these winning traditions.
The team remains focused on what the end goal is going into conference play, ultimately winning a championship. 
"
It's been great watching the girls play again, I'm excited to see how it turns out."
— Karissa Guthrie, Counselor
Head Coach, Jo Makiawi, said  "The program has had players who not only have represented themselves well on the court, but in and outside of school as well. Another great and important factor is the dedication, passion, and commitment of the "Core" coaches who have built this program. The girls are held to high standards and expectations and I believe this is what has made them into great people and volleyball players. We have created more than just a program, but a 'Family.'  Shadow Ridge volleyball has always been about hard work and it shows in the gym and in the classroom.¨
Shadow Ridge, senior, and Defensive Specialist, Brandi Mendonsa,  wants to have a succesful year.
Mendonsa said, ¨We need to stay focused and work as one.  If we do that, we should win some games."
Up and coming sophomore, Chloe Poort, stated, ¨To be successful heading into conference play, I think all our team needs is to work to bring each other up and stay focused in our compettiion.  We need to hold each other accountable to be successful."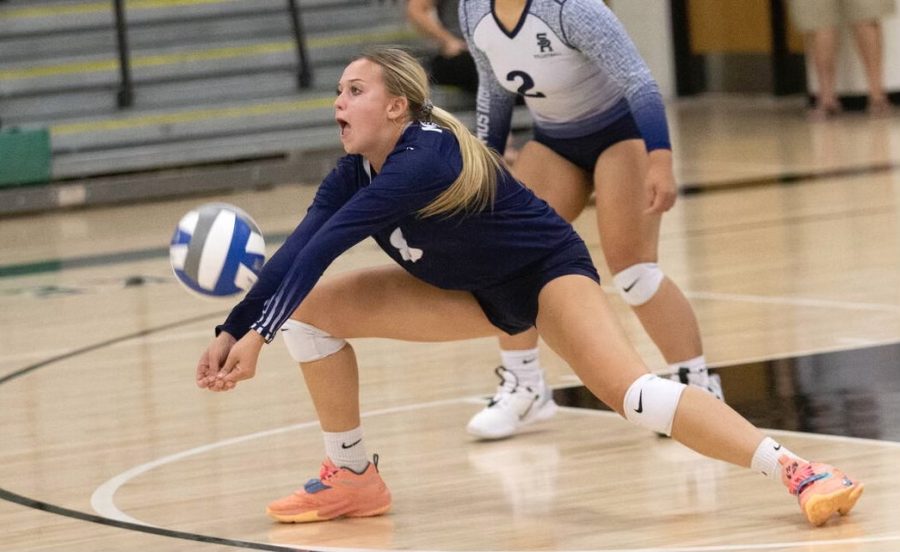 The Mustangs started off strong at the Las Vegas Invitational which is  one of the top tournaments on the west coast with many tough opponents and a lot of competition. The Mustangs ended up with a first place finish, beating top opponent Bishop Gorman in 3 sets. Coach Jo was especially impressed with senior, Jyniah Sanders, who stepped into the role of a middle hitter.
Getting ready to head into league play, in the newly created 5A Division, the volleyball team anticipates a battle every night they take the court.  Listening to the players and coaches talk about the season makes it seem like they're confident that they will not only represent their program well, but, they will represent Shadow Ridge High School and they will most definitely ¨Defend the Ridge."