Long-time Choir teacher Mr. Halvorson and his talented choir class are back and ready to wow Shadow Ridge in the new school year. The choir ensemble is getting ready for their upcoming fall concert. While it may seem that choir is just a fun elective to take, it is so much more as musicians have consistently been awarded statewide recognition and it has all been led by Mr. Halvorson. 
All choir classes of all levels, (there are four), are currently working on their collection of songs for their fall concert, doing things like memorization and refining to make sure they are ready to go. Mr. Halvorson claims all students across all classes are working extremely hard. Students and staff will start to see posters for the fall concert around campus next week that will tell all the information. The concert is on Wednesday, October 4th at 6:00 pm in the theatre, and luckily for students, the concert is completely free! Although there is no specific theme to the concert, the music is mainly based on folk melodies from around the world.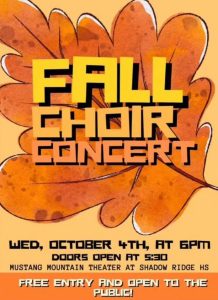 "The students love the music because it is new material to them. Anyone can sing current music and it's nice that an audience knows it, but our students thrive on sharing new music and expanding the listeners' palette of music they can hear," says Mr. Halvorson.
The four different choir classes consist of Beginning, Intermediate, Advanced, and Chamber.
"Beginning Choir is meant for the beginning singer, someone who hasn't sung in a while or has never sung at all and wants to learn more about their voice. We focus on vocal production basics with a wide variety of literature. Intermediate Coir is for students who have completed beginning choir or have demonstrated more accomplished skills through audition. Here, we focus on developing dynamic choral sound and individual vocal development. The literature is more challenging but very rewarding," Mr. Halvorson describes.
"Advanced (Concert) Choir is our large mixed ensemble. Students audition for this ensemble in the spring and have to meet fairly high demands to get in. This year we have over 50 students in this ensemble which allows us to do more expansive choir music which is really exciting. I am very excited for this group. We have a huge men's section this year with lots of football players and athletes in various sports. So much of what we do in this ensemble translates to the team sport dynamic (as all choirs do) and our athletes really thrive in this class. Chamber Singers, is our top auditioned mixed choir. Many of these students take multiple choir classes, band, and AP music theory courses. These students perform around campus and sing our anthem at assemblies. This group of students is extremely dedicated to musical excellence and it shows in their performances," stated Halvorson.
Choir is one of the favorite groups out of Shadow's Performing Arts ensembles.
Halvorson says, "We have wonderful musicians here at school and we provide a great opportunity for any student who wants to explore singing and experience the group dynamic that the choir provides. It's hard for my students to walk out of class mad because they are having such a good time making music together, making new friends, and learning valuable skills that transfer from choir to every other aspect of their life."