Singing Through the Decades With Choir
Shadow Ridge Choirs performance on May 10, 2023 was amazing. The singers researched and chose their very own decades of music. The choirs sang "I Want It That Way," "Memories," "Because," "Fly Me to the Moon," "Can't Help Falling in Love," "Eleanor Rigby," "Flashlight" with soloist junior McKenna Clark, "Better When I'm Dancin'," "Buddy Holly," "Take Me Home, Country Roads," "Goodbye Yellow Brick Road," with soloist senior Axel Reynolds, "Just Give Me a Reason" with sophomore Rylee Cainglet as the soloist, "Take On Me," "Don't Stop Believin'" with sophomore Larry Halvorson and Junior Bryn Layten singing a duet, "Reap What You Sow" where the graduating class of 2023 sang a part, and as their finishing song "Ain't No Mountain High Enough." 
Sophomore Tatum Shaul sang in the intermediate choir as a second soprano. She explains that this was her first year singing for Shadow but she has been in other performances in the past.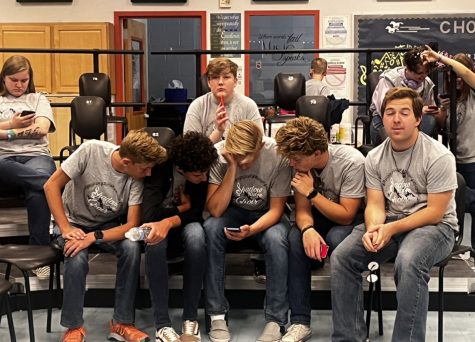 Shaul's favorite song was "Flashlight," and she really enjoyed hearing the Advanced Choir sing. She loved the overall blend of the boys and girls. She also says that performing is pretty normal for her. 
"Singing in front of a crowd was scary but I'm pretty used to it. I would say that overall it was a fun experience but also a little stressful," Shaul states.
Kara Baldiwn, a freshman, is an alto one in the Advanced Choir. She has previously worked with vocal coaches and sang in other choirs before singing at Shadow Ridge. Baldiwn states that she really loved singing "I Want It That Way." She describes the Shadow Ridge Choir as an awesome experience.
"I feel like it has helped me in a few ways. I am more confident with my voice and can sight read better than before," Baldiwn says.
Sophomore Jaxon Cecil is a tenor in the Shadow Ridge Advanced Choir. He has had prior experience at LVA's Cantare Choir and through the Zion's Youth Chorus. Cecil also describes it as being a really fun concert.
He explains that his favorite song also was "I Want It That Way." He states that he really liked just being able to goof off with his friend.
"Singing in front of a crowd isn't too bad. I don't get stage fright since I've been performing my whole life," Cecil stated.
Elizabeth Fisher, a sophomore at Shadow, sings in the Advance Choir as a soprano one. She has sung for the Zion's Youth Choir in the past. Fisher states that for her singing in front of a crowd isn't scary. She explains that it's actually really fun. Fisher also states that through Shadow's choir program she is a better singer.
"I think in some way high school choir has helped me to grow a little bit," Fisher states. "I think learning to sing in a group and being able to learn from a different director has helped me to grow."