Sing Your Way Into Shadow's Choir!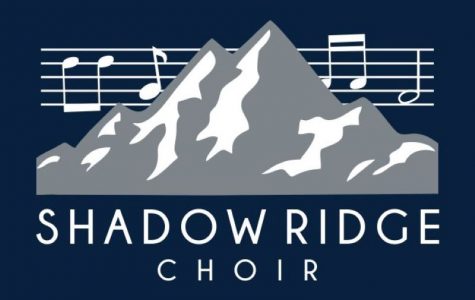 Shadow Ridge's choir is in need of new voices to help expand its program. There are 4 levels of choirs for students in all ability ranges: Beginning (no experience/audition), Intermediate (complete Beginning or audition), Advanced (audition), and Chamber Singers (audition).
"We access multiple intelligences and our students generally have higher achievement scores and do better in school. Our music can be demanding but students thrive on the challenge and the reward of being able to present something to audiences is a real world application of the skills we work on daily. Choir is really a perfect place to learn real world skills that you will use after high school, even if you aren't performing music," says choir director, Mr. Halvorson.

Choir is a family. Choir is a safe, welcoming environment for all students where they work like a team to produce beautiful music. All of them work hard and have fun experiencing music together. 
Students do physical warmups to prepare the body for singing. The act of singing properly is a surprisingly physical task. They also do various vocal and ensemble warmups to tune the voice and mind for the daily tasks at hand. Lastly, they practice the skill of reading music at sight.
"Think of it like a foreign language. There is an alphabet, a grammar, and a syntax that singers have to process so we work on that daily. My goal is that all singers from Shadow Ridge leave this school as literate musicians so they can go to any church, community choir, or other ensemble and pick up music quickly," Halvorson explains.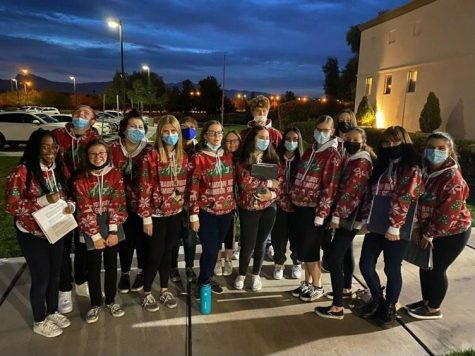 Choir typically performs one concert per quarter. Their Chamber Singers perform more often. This coming school year, they hope to add additional performances and extra curricular ensembles that will give the singers additional opportunities to perform.
"There seems to be a lot of negative stigma around guys singing in choir. Not totally sure where that comes from because the music industry is full of male artists and a large portion of those artists got their start in a school choir program. Our beginning and intermediate levels of choir have separate classes for men so they can work on their voices in an environment where they can feel comfortable," Halvorson explains. "Men's choral music is also a blast to sing. Once they sense the accomplishment of singing with others, they are often more hooked than ladies but it is all about getting over that first hump of nervousness and comfort in their own voice. As they progress and develop vocal skills, they will often move to our more advanced ensembles."
Choir student, Lindsey Cleveland was one of the two students that made All-State honor choir. All-State choir festival is where students audition to earn a spot in the ensemble. It is made up of multiple voice parts where they come together to learn high-level music in a short amount of time. They work together with a guest conductor for a couple days before a performance they do at the end of the event. She thinks more students should join choir because of the many amazing experiences students get to be a part of.
"
Although it may be scary to try singing or to join a community, especially a musical one at times, it's extremely worth it. We are all on the same page and have the same goals, and we can make a community and grow in it. There is no judgment here, and we are a place for everyone to feel welcome.
— Josie Gordon
"My favorite thing about choir is being able to express myself through music. I also love singing with my friends which has made it a lot more fun getting to work with new people and make new friends within the program. We also have many opportunities to lead the program and give our opinions and be open with one another. I love the safe-space environment we have as ensembles. I immediately felt comfortable, welcomed, and valued when I first joined the choir program," Cleveland explains.
The second student who made All-State honor choir is Josie Gordon. She says that they do many different types of genres, which derive from certain literature; nonetheless, they explore so much more outside of normal choir songs, and express themselves within such.
"We perform, do fun activities outside of choir to build more of a community, and most importantly we sing and embrace ourselves in choir. Choir has helped my confidence a lot and has given me a place to be," says Gordon.
More students should join choir because it is a fun experience and it explores varieties of music to sing. They are an open community and want to express diversity and open conversations in the classroom. There are open auditions right now for  Beginning, Intermediate, and Advanced choirs. All that is needed is some basic student information and then uploading a short video of themselves singing. Students wishing to enroll in Beginning Choir do not need to submit a video.
Link to Choir Enrollment:
https://mailtrack.io/trace/link/dc9029766a28e85c2f49e0a48f81c9f60e98804e?url=https%3A%2F%2Fdocs.google.com%2Fdocument%2Fd%2F1iBrYcMH47QQHK-rYq3Zpl4IvhzMoMhjQN-dVQxyZMTI%2Fedit%3Fusp%3Ddrive_web&userId=3261954&signature=5ff3e2f09f84414b