Head in the Clouds Festival Lineup!
Head in the Clouds is a two-day festival that starts on August 20th and ends on the 21st. The festival is primarily to showcase a multitude of genres and Asian excellence in the music industry as well. 
Presale begins Thursday, May 26th at 12 p.m. PT.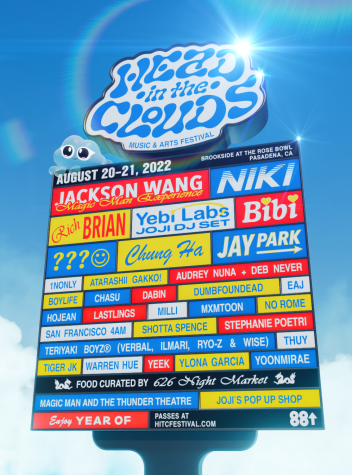 It is hosted by 88rising, a music recording company. The name also has a meaning behind it. Eighty-eight translates to double happiness in Chinese. In short, the name means "double happiness rising"– which is what the company aims to do with the help of many artists under its label. 88rising is a relatively new company that was founded in 2015 and since then, the company has definitely made a name for itself with its many noticeable artists. 
"Who are you excited to see?" 88rising says.
The festival will take place in Pasadena, California. It will be in the Brookside at the Rose Bowl and the venue will open at 2 p.m. on both days of the festival. 
The festival has been planned for the past three years, this year counting as its fourth. The first festival was in 2018 and another would be held in 2019. 2020, though, would prove complicated with the COVID-19 pandemic. In 2020, though, 88rising would hold a free online concert called "Asia Rising Forever Festival" to replace the originally planned Head in the Clouds Festival during that year. Their primary goal was to raise funds against the anti-Asian sentiment that would spread because of the virus. 2021 would then be held with a fresh lineup as its comeback. 2022 is a new year for the festival and they don't seem to disappoint with the lineup that has just been released. 
The lineup includes Rich Brian, NIKI, Jackson Wang, and BIBI. Many more artists will be at the festival as well. The list does not stop there, though. As the dates of the festival draw closer, more guests will be announced. 
"This community has been built up from literally the ground up," NIKI, a headlining artist, explains. "It's just really cool to see a familial bond between artists, artists' fans, artists' company."
The Head in the Clouds Festival is often dubbed the "Asian Coachella" as it has a similar feel as Coachella in itself. From music, new experiences, and a way to explore foods, it truly seems dream-like. Catering food and beverages is the 626 Night Market, a food festival held in Southern California. With food, music, and amazing artists— the atmosphere of the festival will definitely leave one's head in the clouds.
"I love doing Head in the Clouds because every year, I get to see [so many people expressing themselves] in front of me," Rich Brian, another headlining artist, tells.