Cooper Fisk
Cooper Fisk set his sights on becoming the valedictorian of his class when he was in elementary school; he realized he needed to put in the work during every academic school year to achieve that goal. Fisk plans on attending Utah State University in the fall to study electrical engineering with an emphasis on sustainable energy and electic vehicle development.  Fisk's professional goals included working on developing sustainable energy resources and infatructure and also helping design electric vehicles as part of team and then as a leader over a team. Fisk received the Presidential Scholarship from Utah State University which covers 100% of tuition and student fees for four years which ends up saving Fisk approximately $47,000 (as a nonresident of Utah).
Fisk said that obtaining the title of valedictorian was a lot more challenging than some people would think, but it was also less work than anticipated.
Fisk took as many advanced placement classes as possible during his high school career but thinks that AP Physics was the most difficult.
"AP Physics was the most challenging class because it's a lot of new concepts and it's a new way of thinking to apply them," stated Fisk.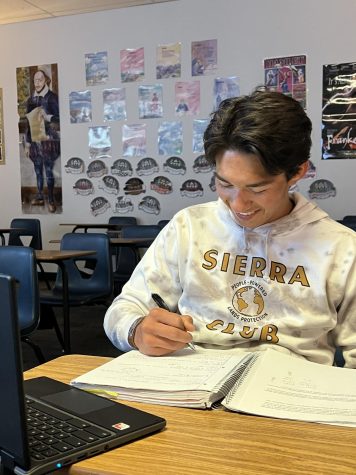 Although AP Physics was the hardest class he took, he also says it was the most beneficial because it challenged him in ways that other classes hadn't.
Fisk is a respected, and successful, cross country and track and field athlete as well. It was never a question in Fisk's mind whether or not he should pursue his athletic career over his academic one. He says that he loves his sports too much to give them up; he also was not willing to let his schoolwork slide for the sake of running. Fisk does state that managing his time effectively proved to be difficult at times but it was ultimately worth it in the long run.
Fisk advises younger Mustangs to, "Keep pushing yourself and don't give up just because you aren't doing well at something at first."