Happier Than Ever: Billie Eilish
Popular American singer-song writer, Billie Eilish, has officially announced and sold tickets for her upcoming Happier Than Ever Tour. The tour is said to begin on February 3rd and conclude on July 2nd, 2022, with 32 shows taking place all around the United States and Europe. Prior to her 2022 run, Eilish made her mark at four festivals in 2021 such as Life is Beautiful, Firefly, Governors Ball, and Austin City Limits Music Festival, and is ready to premier consistently.
Senior, Kinamoni Jerome stated, "I am so excited for the concert because so many artists haven't been touring because of Covid. I am definitely going to the Billie Eilish concert because I am excited to see her perform and meet other fans."
"
I finally found someone with the same middle name as myself. I mean not many people have 'Pirate' as a middle name and that's why I'm a fan."
— Ms. Berge, banker
Eilish first gained public attention in 2015 when her debut single titled Ocean Eyes was released. Ocean Eyes peaked within the top 50 on the US Hot 100 billboard in several countries, and ultimately led to the creation and release of her first album Don't Smile at Me, which reached the top 15 on the US Hot 100.
Shortly after, internationally chart topping singles such as You Should See Me In A Crown, When the Party's Over, and Bad Guy (along with others) were publicized, indicating that an album would soon follow. "When We All Fall Asleep, Where Do We Go?" was officially released on March 29, 2019 and peaked at number one on billboards in 15 different countries. "When We All Fall Asleep, Where Do We Go?" sold 1.2 million units globally in 2019 alone, making it the fifth biggest seller of the year.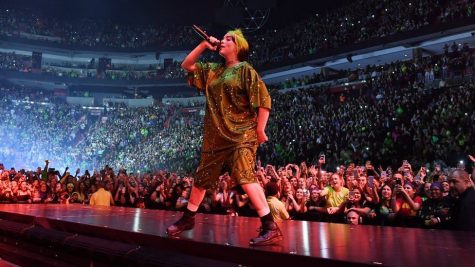 Bad Guy became Eilish's first single to debut in the top ten of the Hot 100, peaking at number one. This also helped her become the first born artist in the 21st Century to have a number one song in the Hot 100, as well as the first to have a number one album on the Billboard 200. Eilish also broke the record for the most simultaneous hits on the Billboard Hot 100 among women.
On February 26, 2021, Eilish came out with the documentary of her life titled "Billie Eilish: The World's a Little Blurry." The film reveals the behind the scenes creation process of Eilish's debut studio album "When We All Fall Asleep, Where Do We Go?"
Since the tour is set to kick off this week, fans are eagerly anticipating this concert. The threat of Covid is still a concern among many, however, especially since Adele just canceled her weekend Vegas residency with no mention of when it would be rescheduled.
English teacher, Ms. Easley states, "I love Billie and I did not know she was going on tour! Will Covid strike and ruin it?"