First Friday Makes a Fierce Return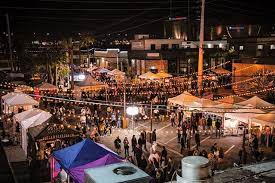 First Friday is the perfect time to experience and enjoy art and music made by Las Vegans. This is a monthly event held on the first Friday of every month in the Art District. First Friday is a way for local artists to be appreciated. The event started up again on April 2nd, and the hours are 5:00-10:00pm. All attendees must RSVP, so a spot can be saved. 
When it first opened there was a maximum attendance of 250 guests, but now there is no capacity limit. All COVID guidelines will be followed in order to keep the vendors and attendees safe. Here are the main rules, all guests will be required to wear face masks and temperature checks will be given at the entrances. All food and drink must be consumed in the food garden and bar area, and only packaged food can leave the area. The artists were super excited to come back.
"It's been way too long. Our local artist community is resilient and we are ecstatic to grow culture and connection in Las Vegas once again as the year progresses. Stay tuned for further details," states First Friday's Instagram page.
Artist applications are welcomed, but with limited space. Art and food vendors will still remain on 1025 1st Street, but there are separate entrances to follow health guidelines. Entrances and exits will be on Art Way and 1st Street for the Art Walk, and the food garden entrance will be in the Art Square parking lot and Art Way. First Friday's main goal is to have students show who they are, and express themselves.
"We provide a platform where everyone can celebrate our local culture and creativity in all its forms. While we are best known for our monthly arts & culture festival held in the Las Vegas Arts District, the First Friday Foundation extends its community outreach efforts well beyond the first Friday of each month," said ffflv.org.
By celebrating new and young artists, it will improve how the artist carries themselves, and their self-esteem will rise. First Friday is also a non-profit organization dedicated to helping support art, culture, and most importantly education. 
"The First Friday Foundation is a 501(c)3 non-profit organization dedicated to supporting local arts, culture, and education. For over seventeen years, the Foundation has put significant effort into providing artistic opportunities for thousands of students in the Clark County School District through creative empowerment assemblies, contests, and income-based opportunities," explains ffflv.org
The next First Friday event will be held on June 4th. Show support to local and young artists by heading down to the Art District, and buying some food, drinks, and art.