Trailing History
With the end of the school year and the start of summer quickly approaching many are looking for ways to get out of their house and enjoy themselves. The weather conditions are perfect for spending the day outside. Lucky for Vegas locals the Historic Railroad Hiking Trail is right around the corner. The Historic Railroad Hiking Trail is a simple yet visually rewarding trail.
In the Black Mountains of Lake Mead, between Boulder Harbor and the Hoover Dam, the Historic Railroad Trail is a listed National Historic Trail. 6 Companies, Inc. collaborated with the US government to build 30 miles of railroad to link Boulder City and the Hoover Dam at the time of completion. The Historic Railroad Trail is a 3.7-mile strip of railroad path that is the only intact preserved portion of the rail line. Lake Mead, the Boulder Islands, and Fortification Hill, as well as the scenic Mojave Desert scenery, are all visible from the trail.

The Historic Railroad Trail is rich in history, particularly when it comes to the railroad's involvement in the building of the Hoover Dam. The trail actually follows a pretty smooth railroad bed that curves along the side of the Black Mountains, passing through five tunnels totaling around 300 feet long and 25 feet wide. In the 1930s, the portion of the railroad included in the trail called for the transportation of materials like gravel and concrete through Boulder City to Lomix and the Hoover Dam.
The trail's tunnels offer shelter that makes for incredible wildlife viewing opportunities. Hikers can see and hear Mexican Free-Tail bats roost in the main, second, and third tunnels in the mornings and evenings between May and October.  Particularly in the spring, Desert Bighorn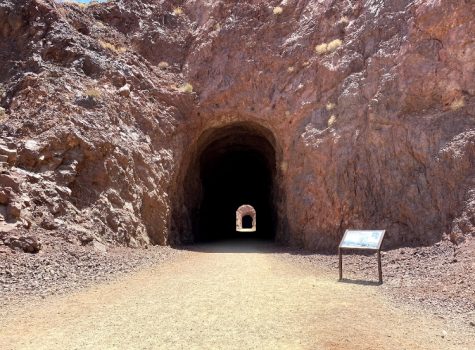 Sheep can be seen on the rocky hillsides next to the track.
The hike is also ideal for runners and hikers who just want to take their dogs and children for a run or a stroll close to the city but away from the tameness of the busy city. On the trail, as well as any trail within Lake Mead National Recreation Area, leashed and obedient dogs are permitted. There is no charge at the trailhead parking lot, but there is a fee if you want to go into the park. Since the trail closes in the evening, make sure to get off before it's too late to prevent a clash with the Hoover Dam Police.