iCarly Reboot
The hit childhood television show iCarly announced that there was going to be a reboot. In December 2020 it was revealed that Miranda Cosgrove (Carly), Nathan Kress (Freddy), and Jerry Trainer (Spencer) would take their same roles from the original show. There was a picture that Cosgrove shared of the three of them reuniting in January. Officially, the production of the show didn't begin until March.
Many fans shared their excitement about the reboot because iCarly was one of the many favorite shows that they grew up with. Unfortunately, Jennette McCurdy (Sam) will not be returning to the show due to leaving the entertainment industry several years ago. "I quit a few years ago because I initially didn't want to do it," says McCurdy.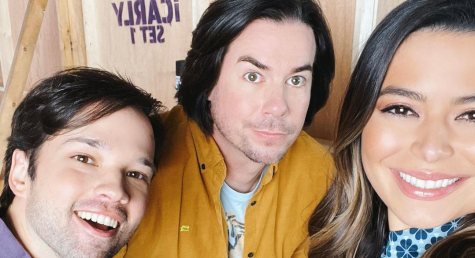 Actress Laci Mosley will be playing Carly's best friend and roommate Harper on the show. Upon announcing that she was joining the show she received a lot of hate due to people believing that she was replacing Jennette McCurdy's Sam. Sadly, Laci also got many racist DMs on her social media platforms and made a Tik Tok video addressing it.
"I've been deleting and blocking people but I can't be bothered anymore," says Mosley "Stay mad. I felt silly being upset by racism cause it's just how this terrible planet is but sometimes it still catches me off guard." Both Paramount+ and iCarly spoke out about the comments Laci was receiving and talked about how it was not acceptable and that she shouldn't be treated that way just because she is joining the cast. 
"
The 13-episode season follows Carly Shay and her friends as they navigate work, love and family in their twenties"
— Paramount+
The first 2 seasons of the show were about Carly, Sam, Freddie, Gibby, and Spencer pulling pranks on each other and about Carly's web series iCarly. 
Throughout the series, there were so many funny moments and interesting storylines about what the group of friends was doing. In the reboot, there will be a total of 13 episodes and it will be picking up 10 years after the original show ended.
The series is set to premiere on Paranount+ on June 17, 2021, which has a lot of fans excited to relive their childhood. People that are looking forward to the reboot can find seasons 1 and 2 of iCarly on Netflix and can wait just a month to watch the reboot.