Stranger Things Season 4
One of Netflix's most popular shows Stranger Things released the teaser trailer to season 4 on February 14, 2020, so that fans had a surprise on Valentine's Day. Another trailer was just released two weeks ago and has accumulated over 9 million views. So many fans have been waiting for season 4 to come out after the show's third season came out on July 4, 2019.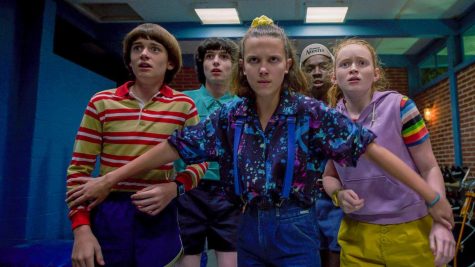 The series was first released to Netflix on July 15, 2016, and has been popular ever since. The show takes place in a fictional town called Hawkins, Indiana, and is set in the early-to-mid 1980s. In the show's first season they introduce four friends by the names of Will, Mike, Dustin, and Lucas. When Will mysteriously disappears the group sets out to look for him only to find a girl that they've never seen before called Eleven.
"
We're excited to officially announce that production for Stranger Things 4 is now officially underway—and even more excited to announce the return of Hopper! Although it's not all good news for our 'American'; [Hopper] is imprisoned far from home in the snowy wasteland of Kamchatka, Russia, where he will face dangers both human… and other. Meanwhile, back in the States, a new horror is beginning to surface, something long-buried, something that connects everything…
— The Duffer Brothers
Throughout this season the kids find out more about the town that they thought they knew everything about and in the season-one finale they find Will. When season 2 came out viewers were excited to see what would happen after they found Will. During this season the group of boys, plus Eleven, find out more unsettling things about Hawkins and where Eleven came from.
This season mostly focuses on the repercussions of what happened in season 1. The most recent season, season 3 introduced new characters Billy and his younger sister Max to the show. Max joins the group of friends and goes on eventful adventures with them. 
The year is now 1984 and the Soviet Union is attempting to create a gate that leads to the Upside Down (the place Will disappeared to). Luckily, they fail and everything is getting somewhat better until Joyce (Will's mom), Hopper (the ex-chief of police), and Murray (Brett Gelman) go into the secret Russian lab that is underneath the well known Starcourt Mall to turn off the machine that is attempting to re-open the portal to the Upside Down.
Finally, the upcoming season 4 of the show was originally scheduled to be released in early 2021 but due to the pandemic they had to delay production; the new release date will most likely be mid-to-late 2021. It is said that this season will show what is happening to Hopper in Russia and viewers will probably see the group of friends separated from when Joyce, Will, Jonathan, and Eleven moved away. 
The new season will also be exploring new regions, outside of Hawkins which is exciting. Fans will get to see more about what happened when Eleven was being kept in the lab and will maybe get to see more kids who were kept there as well. This show is highly anticipated amongst Stranger Things fans and hopefully, more information will be released about season 4.