Friends Reunion: They'll be there for you
When the pilot for Friends first aired it became an almost instant hit. 24 years after viewers were first introduced to characters, Monica (Courtney Cox), Rachel (Jennifer Aniston), Ross (David Schimmer), Joey (Matt LeBlanc), Chandler (Matthew Perry), and Phoebe (Lisa Kudrow), and 10 years after the show's tearful ending, HBO Max welcomes the iconic friends back to the screen in a long-awaited reunion.
"
Oh God, how are we going to get through this alive, without just crying our faces off"
— Jennifer Aniston
"Friends premiered in 1994 and ran for 10 seasons on NBC," says The Hollywood Reporter. "It remains one of the most popular shows in the world, having exploded on streaming when its 236 episodes debuted on Netflix in 2015 and earned a new generation of fans."
The official trailer for the highly anticipated reunion was released Thursday and the premiere date is set for May 27 and is hosted by the Late Late Show's host, James Corden. During the trailer, fans were shown a recreation of the fan-favorite trivia game scene that was seen in the episode titled "The One With the Embryos,"  as well as a table read and a montage of the cast past and present. Fans have also been gifted a recreation of one of Pheobe's best lines "My eyes! My eyes!" as well as Janice's "Oh…My…God."
Along with the beloved cast, the reunion will feature a collection of special guests including BTS, Justin Bieber, David Beckham, Lady Gaga, Mindy Kaling, Malala Yousafzai, and many more. This eclectic group of guests has had a mixed reaction among fans. Screen Rant Writer, Ana Dumarog, believes that the special could have gone without the slew of guests.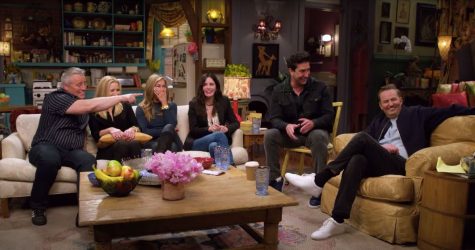 "The Friends reunion having no, or at least fewer, guests would be a better direction for the special. Without additional guests sharing the screen time, audiences could focus on the main cast whom fans have loved — the primary reason why they're tuning in on the HBO Max project, not to see Justin Bieber or Lady Gaga. While the cameos are a good way to add perspective from other people who may have been either involved or are super fans of the show, there are just simply too many guests given its run time."
The original series was first filmed in Warners Bros studios on stage, in honor of the reunion, the set was built up exactly as it once was. Monica and Rachels's apartment as well as Joey and Chandler's apartment were restored to their former glory and the Central Perk opens its doors once again. The sets and cast look as if no time has passed, well except for perhaps a few wrinkles and grey hairs.
Matt LeBlanc tells People Magazine, "It's funny when we do get together, it's like no time has passed. We pick up right where we left off."