Congratulations to 2020-2021 SRHS Valedictorian Zanta Nwuli
Q: When did you realize that you were going to be the Valedictorian?
A: I realized that I was going to be the Val/Sal towards the tail end of junior year.
Q: How long have you worked in order to achieve this honor?
A: I would have to say since the beginning of high school. Each and every class I took and whatever credit I earned was a piece of getting me to become valedictorian. Although it is an honor I achieved, it was never an honor that I dedicated my time at school to achieving. It pretty much just came along with the normal hard work and the challenges that I naturally put myself through.
Q: What does this award mean to you?
A: This award means a lot to me. It is a representation of who I am as a person and the dedication that I have to reach greater heights.
Q: How has your family reacted to this achievement?
A: Yes, my family has reacted to this achievement and they are overly elated. While they are happy for my success, this is also something that they always knew was going to happen. It was just a matter of when.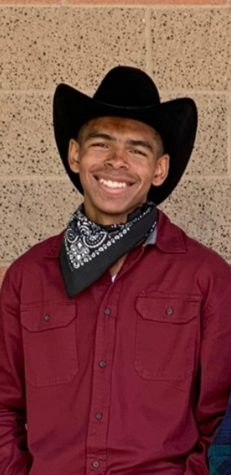 Q: Where will you be going to college and why did you decide on that college?
A: I will be attending the University of Nevada Las Vegas. I decided on UNLV in order to stay close to home and stay near my family during these crazy times. Not only that, the university will provide me with the ability and the opportunity to become a successful man in this world.
Q: What will you be majoring in and what do you hope to do for a career?
A: I will be double majoring in both Business Administration and Psychology. As of right now, I am not entirely sure exactly what I want to do for a career but I want to follow a path that aligns with both of my major choices. Nothing is set in stone as the future will always be open to change.
Q: What is your fondest memory of your time at SRHS?
A: My time has been one that has been unparalleled to many high school students in previous graduating classes. As can be said for my fellow classmates. My fondest memory isn't one single memory but is a collection of all the moments I shared with my closest friends. All of the laughs and times we spent simply living in the moment. Nothing beats the purity of sharing experiences with the friends that are around you.
Q: What type of legacy do you wish to leave at Shadow Ridge?
A: This is a question that I have never thought of or considered before. I want to leave a legacy where I can be recognized for being someone who was just themselves. Not a person who wanted to fit in the crowd, not someone who tried to be someone they aren't, just themselves. That's what I want others to embrace. We are all the best at something in this world and that is being ourselves. No one can replicate it and no one can be as unique as each and every one of us are.