Things To Do This Summer in Las Vegas
With summer right around the corner, a lot of people will be wondering what they can do since a lot of Covid restrictions have been lifted. The pandemic may still be going on, but that doesn't mean that others can't enjoy the summer sun. For Las Vegas natives, there are quite a few things that can be done to enjoy the upcoming summer months.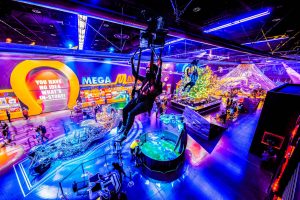 One of the newest additions of things to do in Las Vegas is the attraction AREA 15. According to Thrillist.com, "There's so much cool stuff constantly opening at AREA15, it's almost hard to keep track of it all. Guests walk from room to room for colorful infinity-mirror experiences with music, lights, and special effects. It's not a major production, but it's a fun little detour that takes about 20 minutes to complete."
Some of the attractions AREA 15 has to offer are Meow Wolf, an led-lit supermarket, Haley's Comet, an indoor zipline that replicates what it's like to fly, Dueling Axes, which teaches participants how to throw axes, and various other events. Another attraction that's here is Van Gogh: The Immersive Experience. Ending the day after July 4th, it showcases all of Van Gogh's most renowned art pieces in a big projection-like setting. 
According to VanGoghVegas.com, "Renowned for transforming venues into unforgettable art experiences, the Immersive Van Gogh Exhibit strives to highlight the unique architecture of its spaces while integrating influences from its history and community. Get ready to be transported the second you step inside."
So for those looking to be immersed in creative experiences, AREA15 and the Van Gogh Exhibit are the perfect attractions for those looking for something new. But what about more exciting experiences? If looking at art and walking through LED lights doesn't interest someone, then places such as the Adventuredome and Wet N' Wild would be perfect for those looking for a little more action. With rides suited for people of all ages, the Adventuredome is open every day of the week and requires scheduling ahead of time. And as for Wet N' Wild, it has plans to reopen to the public starting on May 27th. 
According to WetNWildlasVegas.com, its attractions include "Tornado, Red Rock Bay, Desert Racers, Paradise Falls, and Constrictor," to name just a few.
But if action and adventure aren't appealing to those who are looking to relax this summer, going to the movies or Lake Mead is always a good option for the whole family. With movies such as "A Quiet Place Part ll" coming out next week and "Black Widow" coming later in the summer, seeing these blockbuster movies is sure to entertain anyone who sees them.