Fun Times With Snacks and Movies at Snappy Burger
Snappy Burger is a family-owned Las Vegas classic. It is a simple food place where customers can park and watch a movie in their vehicles. They are located off of the 95/Decatur exit-SNAPPY BURGER – Burgers – 101 N Decatur Blvd, Las Vegas, NV. Their hours are Monday-Sunday 11 a.m-11 p.m. It is a fun charming 1950s style entertainment with good food, affordable prices, and a good time. To get food, customers go through the drive-thru then park their vehicles and watch a movie.
"
In the heart of Las Vegas lies a drive-thru hamburger stand coupled with a boutique outdoor drive-in movie theater. Snappy Burger is a charming blend of 1950's style entertainment built into modern shipping containers. Locals can enjoy great Retro Television Shows and late night classic horror films from the comfort of their own car."
— Snappy Burger.com
"Debuting earlier this year, Snappy Burger is a drive-thru burger joint with a concept so absurd that it might work. The premise is this: After picking up your burger, you can park your car and enjoy a movie on the big screen. It's definitely a unique twist on dinner and a show, and if anything, you'll walk away knowing you just had a true "Only in Nevada" experience! Hungry for a burger? Stop by this one-of-a-kind eatery and give it a try," states Only In Your State.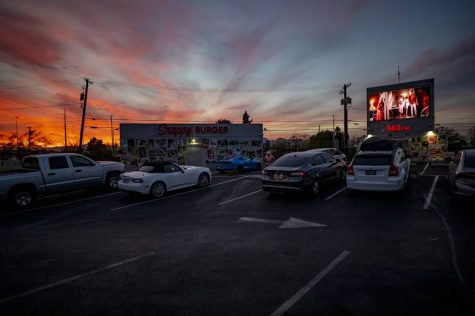 The main idea is to get the dinner and a show in a new and improved way. The menu is small, but delicious, which makes ordering very easy.
"The burgers are pure Angus simmered atop a flat griddle, with vine-ripened tomatoes, hand-leafed lettuce, American cheese, freshly sliced onions, and the famous Snappy sauce, all together under a freshly toasted bun. Movie fans can enjoy this burger with fresh buttered popcorn, French fries, shaved ice, a classic full-sized candy bar, and wash the whole meal down with actual sugar cane soda pop in real glass bottles," states Snappy Burger.com
The burgers have all the basic toppings with the added extra snappy sauce and many sides and drinks can be ordered alongside the burgers. They are an inclusive and fun place during the day or night.
"After you've picked up your goodies, you can park your car and check out the movie that's playing. Snappy Burger prides itself on exclusively showing short films from independent artists—the only movie theater in the world to do so. Family-appropriate movies are shown during the daytime, and films with more mature themes are shown from 9:00 p.m. to 1:00 a.m," states Only In Your State.
They have options for a family date night or a date night with a partner. Their movies are always interesting and fun. Snappy Burger is a fun and inclusive place for family and friends to get some grub and watch a movie in the comfort of their vehicles.