The MSG Sphere
New Las Vegas concert venue opening in 2023
The MSG Sphere is going to be a new concert and entertainment venue apart of the Venetian on the Strip. It is a property of Madison Square Garden and will be opening in 2023.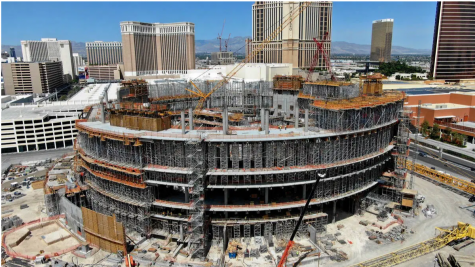 The new venue will feature a massive LED screen that spreads across the entire interior of the venue with the sound coming up from the floorboards. Originally the venue was supposed to open this year, but because of delays in the supply chain due to the pandemic, the project was delayed until 2023. The 17,500 seat arena is being built at a cost of 1.8 billion dollars which is 1.5 billion more than the similarly sized T-Mobile Arena cost to build.
The new arena, while not designed to host sporting events, is rumored that there could be boxing or MMA matches in the building. For residents and tourists, this will be an exciting new attraction in Las Vegas. This could eventually be one of the more famous attractions to see in the city, and could hopefully help Las Vegas recover from the pandemic.
Senior Franklin Dela Rosa said, "I think that this could be a really good addition to the Strip. The concerts here could be really cool and creative, and I'm super excited to see what acts they could bring to this venue."
All of Las Vegas' public transportation will have an added stop to the MSG Sphere, and there are even plans to build a monorail station connected to the Sphere. "This could be a really accessible place for everyone in Las Vegas to go for performances. If they can have some more budget performances then it could be really cheap for people to not only get to the arena but to also see a show there," said Dela Rosa.
"I really want to see what this will look like when it is finally finished. I really hope that some artists like DAY6, Pink Sweat$, or Keshi will perform there. I think that they could do some really cool and creative stuff with a venue like this one," said Dela Rosa.
An identical MSG Sphere will also be being built overseas in London. This could be the first venue of a new generation of surround screen venues, for performances, or even movies. The building is currently ahead of schedule so Vegas could see this building finished before 2023 if the supply lines are not delayed any more.