The Handmaid's Tale Season 4
The Hulu show "The Handmaid's Tale" has just released a season 4 to the well-known series. The show is only available on Hulu and the show has been out since April 26, 2017. Hulu announced that there would be a season 4 on July 26, 2019, and that created a lot of excitement around the upcoming season. Originally, "The Handmaid's Tale" was a book written by author Margaret Atwood and first came out in 1985.
Both the show and book revolve around a totalitarian government-based state, known as Gilead. During season 1 viewers learn about the main character, June Osborne, also known as Offred. then later Ofjoseph and get to know a little about her. Later on, throughout the season they get to find out how she got captured and why.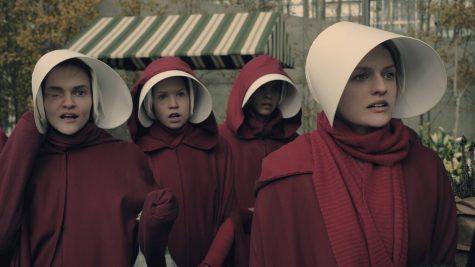 The state of Gilead treats women as if they are property due to the plummeting number of birth rates. It is a terrifying concept for the women who are being used to provide children for the husbands and wives who are in charge of everything around them. Viewers will come to find out way more information about not only June but the other women who are also stuck in the same situation as her.
The large group of women is starting to get used to how things work for them and what they have to do in order to survive because they know if they try to step out of line they will get sent to the farms to work until their death or if they don't get sent their they will just get killed and be hung from the walls for all to see.
In these seasons, June is so strong-willed and brave, most handmaids look up to her because June has always had hope that one day she would escape and reunite with her child and husband.
At the end of season 3, June comes up with a plan that ends up saving over 80 children and helps them get safety into Canada. The anticipation of what happens next left viewers on the edge of their seats. As known already, Gilead thinks of the "kidnapped" children as their children and as an important part of their world.
Through the episodes that are already out and the upcoming episodes, viewers will get to find out what will happen to the kids and what consequences June will face if Gilead's government discovers what she has done. It is very exciting to see what these characters have in store this season and what will happen to each of them.
So far there are only 4 episodes in season 4 but new ones are coming out every Wednesday. In total there will be only 10 episodes and there may or may not be a 5th season. Keep an eye out for new episodes every week and be prepared to see some action.