Avatar Retakes Top Spot From Endgame as Highest Grossing Movie
As an epic conclusion to the Infinity Saga and 22nd movie in the Marvel Cinematic Universe, Avengers: Endgame overtook the movie Avatar for "Highest Grossing Movie" in 2019. This was a momentous occasion as Avatar had held the top spot for nearly 10 years before Endgame came along. Even then, Endgame had a tough time passing Avatar's original $2.789 billion record. Endgame had to be re-released with "bonus scenes" in order to barely pass Avatar. Endgame's reign at the top is now over though as Avatar has reclaimed its crown after making even more money through a re-release in China last week.
"
Passing the gauntlet back to you… @JimCameron.
— Russo Brothers
According to Hollywood Reporter, Avatar "was among a short list of historically popular blockbuster titles China's Film Bureau requested for re-release in March, when China's cinemas were attempting a staged reopening as the country began to get a handle on local spread of the novel coronavirus."
Avatar earned more than $8 million on the first weekend of its re-release, bringing it over the $2.797 billion record Endgame has achieved. The gap between the top two movies has already begun to grow and is expected to continue growing. Another presumed reason for the re-release of Avatar is to regain audience's interests in the franchise and hype it up as Avatar sequels were announced to premiere in 2022 and more future years.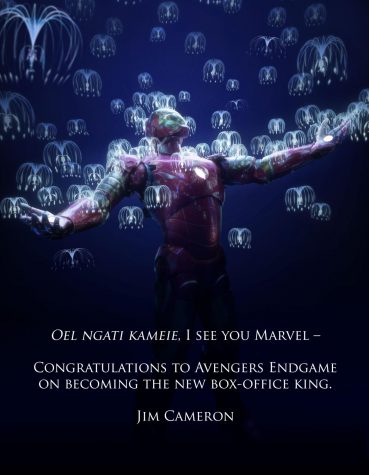 There seems to be no tension between the competitive Avatar and Marvel Studios as the directors of Endgame, the Russo Brothers, tweeted at James Cameron, director of Avatar, "Passing the gauntlet back to you… @JimCameron." The picture posted with it combined the Avengers and Avatar logo to spell out "Avatar" and gave thanks to @Bosslogic who created the artwork.
Marvel Studios tweeted, "Congratulations to @JimCameron, @JonLandau, and ALL of Na'vi Nation for reclaiming the box office crown! We love you 3000. @OfficialAvatar." This tweet was accompanied by a short clip of the iconic Avenger's "A" being replaced by an Avatar-inspired "A."
These tweets are very reminiscent of James Cameron's message on Twitter when Endgame beat Avatar in 2019. The Avatar Twitter featured an image of the beloved hero Iron Man in the Avatar world of Pandora surrounded by woodsprites. Cameron's message was, "Oel ngati kameie, I see you Marvel – Congratulations to Avengers: Endgame on becoming the new box-office king. Jim Cameron."
It is unlikely that Endgame will try to regain the top spot again through another re-release. Marvel is working on a lot of projects currently and putting its focus towards them. In the end, Disney owns both Endgame and Avatar, meaning that whichever one is on top, Disney wins both ways.