Immersive Van Gogh Coming to Las Vegas
The Immersive Van Gogh is finally making its way to Las Vegas while two other ones have just been opened in Chicago and St. Petersburg, Florida. The location of the show in Las Vegas has not been released yet and remains a secret for now. Instead of Van Gogh's paintings being hung up in a regular fashion they have found a way to make the colorful display even more interesting.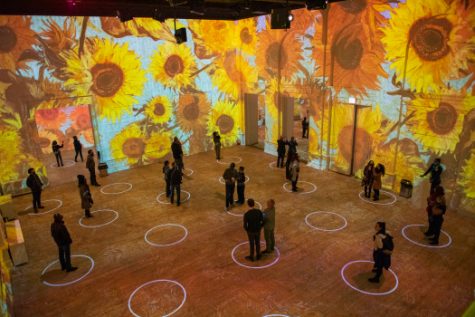 Van Gogh's "sunflowers" piece has been made to where there are more than 500,000 cubic feet of projections on every wall along with "Starry Night," "The Potato Eaters," and "The Bedroom." Italian film producer Massimiliano Siccardi designed Immersive Van Gogh and Italian composer Luca Longobardi has added a soundtrack with his original music into the exhibit. "Wander through entrancing, moving images that highlight brush strokes, detail, and color – truly illuminating the mind of the genius," says the Immersive Van Gogh Exhibit website.
The exhibit has made an announcement that says how the experience is a "timed-entry" and is an hour-long. People wanting to go will have to pay a total of $60 or up for tickets. Inside the beautiful show, there are 90 million pixels and up to 60,600 frames of footage that are on display. Because the exhibits have been popular in Europe for decades Netflix's show "Emily in Paris" featured a different exhibit called Immersive Van Gogh Experience in an episode.
Van Gogh has made so many beautiful art pieces such as "Irises," "Café Terrace at Night," "The Olive Trees," and so much more, although none of these pieces are currently on display at The Immersive Van Gogh it would be amazing to see a lot more of his work at these shows.
The show has made it to where people will be in small socially distanced groups to ensure that they are safe and will be required to wear masks.
Co-producer, Svetlana Dvoretsky says, "We've created a unique and enthralling production that functions safely during this pandemic." Las Vegas will now be the show's ninth location and will officially be coming sometime throughout the month of July."
For more news and information about this exhibit click https://www.vangoghvegas.com/