Area 15
A new entertainment venue called Area 15 has now opened in Las Vegas, Nevada. It is one mile west of the Las Vegas Strip and is open to the public. Even though this place of entertainment and art was officially opened on September 17th, 2020, it has just now become more popular due to being shared on social media frequently and more people are looking for cool things to do. Anyone can go as long as they wear a mask and social distance from others. All people planning on going there have to reserve their free general admission ticket.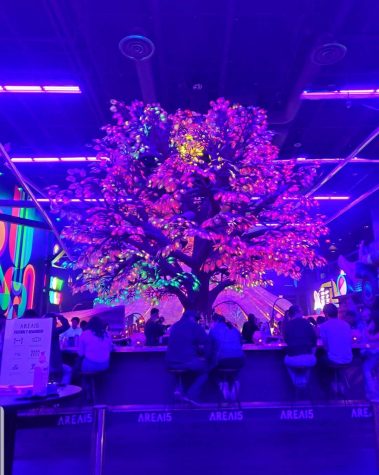 On the website, it states that they are "Open Monday through Friday from 4:00 PM to 12:00 AM, as well as Saturday and Sunday from 2:00 PM to 12:00 AM." Area 15 is free to get into, and people of all ages are allowed to walk around the venue and they get a chance to look at all the sculptures/other art displays and the fun activities. The price of each attraction varies, and parking is free. There are many places that people can get snacks from inside such as Rocket Fizz Candy, The Beast Pop-Up Eatery, Emack & Bolio's Ice Creamery, and Oddwood Bar.
When walking into Area 15 it looks like being in a colorful spaceship that has many different colors on the walls and cool-looking designs painted everywhere. In the center of the main room there is a beautiful tree that is brightly-lit with color-changing lights and underneath it is a spot for drink purchases. 
They don't just have cool snacks for purchase but they also sell many Area 15 themed souvenirs that customers can buy to remember the fun time that they spent there. 
Throughout March there are different themed events that people can attend and enjoy. Within Area 15 there is a supermarket-themed attraction that has over 100 custom products in it. Tickets are needed to enter this crazy supermarket and according to the website it costs $45 for general admission ($40 for children, seniors, and military), and $35 for Nevada residents ($30 for children, seniors, and military). If anyone is looking to partake in a fun experience click on the link here https://area15.com/ for more facts.