Moving Back to Movie Theaters
Among one of the many things that have changed due to the pandemic is the movie-watching experience. Moviegoers have been hesitant to return to movie theaters due to health and safety concerns. Additionally, many film industries like Disney recognized this and have skipped movie theater releases altogether releasing films like Mulan and Raya and the Last Dragon on Disney Plus with premier access. This has created a problem for movie theaters and in order to stay afloat, movie theaters have started to offer the option for customers to rent out their own theater. Unlike traditional movie theater experiences amongst a crowd of strangers, renting a private theater allows for a private audience of typically 20 people to watch a movie together in their own theater.
The big screen, surround sound, and smell of popcorn are all part of the movie theater experience, and while people can watch movies at home, they still miss going out to watch a movie. Renting a private theater allows for people to feel safe while watching a movie while still being able to enjoy it with friends and family. Even though Covid precautions are enforced, the experience can still be enjoyable.
Naomi Brown, junior, remarks, "I think that renting a theater room is very nice especially if you have a big family, it's really fun. As for wearing masks, I really don't mind. It's not like you talk anyways, and I usually eat the whole time."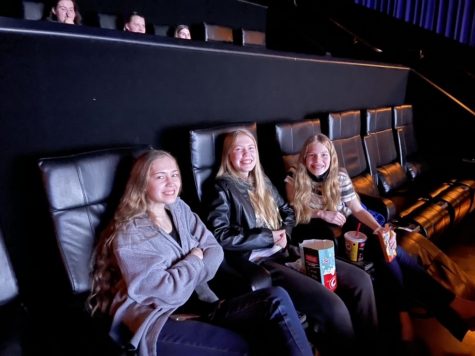 "The main difference was the social distancing when standing in line to get popcorn and having to wear a mask during that. But I didn't wear a mask most of the time because I was eating the popcorn," adds Soriya Ritchie, sophomore.
Masks are required to be worn in the theater at all times, even when watching the movie, except when it comes to eating and drinking. Renting a private theater allows for people to spread out in the theater and maintain proper social distancing. Brown says that there were hand sanitizing stations available in various places. Movie theaters make a special effort to keep the theaters clean and sanitized to keep viewers and workers safe. Seats and surfaces are sprayed and cleaned before each viewing and food services are kept clean as well.
"
I think the positives were that we didn't have to deal with random people, their remarks, and maybe even their impoliteness during the movie."
— Soriya Ritchie
Private watch parties are usually available to book at Cinemark theaters for $99. If at least 10 people attend, then that's cheaper than typical ticket prices. For this price, customers book a time to watch the movie, select an older movie that's available to watch (Brown and Ritchie watched Pride and Prejudice), and get the experience of a private theater experience of up to 20 people. Prices for new releases can go up to $149.
"At first movie theaters were completely closed and I was really sad at that time because I see movies with my friends a lot," Brown states. "But now that they're open again, go see a movie. It's such a good experience to watch a film in a distraction-free environment."