Daft Punk Splits Up
The French pop music duo Daft Punk has recently announced their split. After more than 28 years of being on the music scene, the duo shared the news of their break up via social media. The pair came into recognition in America by making upbeat tech music that quickly gained popularity around the world. Daft Punk's representative confirmed to reporters of the duo's split, but declined to share any details of why.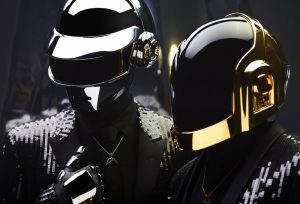 "The group announced the decision via an eight-minute sequence, dubbed "Epilogue," taken from their 2006 film, Electroma, in which two robots — meant to represent band members Guy-Manuel de Homem-Christo and Thomas Bangalter — venture into a desert where one gets blown up. An image of two robot hands forming a triangle then flashes on-screen with the time-stamp: 1993-2021," states RollingStone.
For a lot of fans of techno music from the early 2000's, this was sad news. Getting their start in 1993, Thomas and Guy have produced many popular songs that defined a new age of pop and techno music for a whole generation. The two men met in secondary school in 1993 in Paris. From then on, they would go on to play in a band called Darlin'. After criticism from a British music artist, their first hit song would be called Da Funk. After that, their first album called Homework would prove to be an even bigger success. 
"Formed in Paris in 1993, Daft Punk are credited for bringing the French underground house scene to the charts. They are considered one of the most influential electronic acts of all time, with hits including "Da Funk," "One More Time" and "Around the World." In 2010, they made their film score debut for the sci-fi movie "Tron: Legacy." At the 2013 Grammy Awards they won Record of the Year and Best Pop Duo/Group performance with the retro-disco single "Get Lucky," featuring Pharrell Williams and Nile Rodgers," reports CNN.
Even though Daft Punk has only released four studio albums over the course of their 28-year reign, they always proved to everyone that they had something new to bring to music. Out of their whole career, it's reported that they've consistently modeled and shown up for shows with only their masks on. But even though Daft Punk eventually revealed their faces, their natural ability to remain a mystery to the masses and keep people guessing is one of the reasons why Daft Punk will be missed. 
"Daft Punk left an indelible mark on the global pop landscape, but especially in America: Their run during the first decade of the 2000s — bolstered by Kanye West's sampling of "Harder, Better, Faster, Stronger," on his 2007 hit "Stronger" — helped lay the foundation for the EDM boom that would shake up pop in the U.S. at the start of the 2010s," says RollingStone.