Floyd Mayweather Buys Crystal Palace Skating Rink
Earlier this month, the boxing legend Floyd Mayweather purchased the Crystal Palace Skating Rink at 4680 Boulder Highway. The Michigan native bought the roller rink for $4.5 million and renamed the Crystal Palace Skating Rink as Skate Rock City. Skate Rock City has recently been opened and for anyone who loves to skate, the rink is open the first Monday of every month.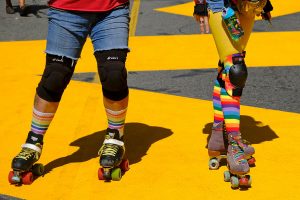 "The pugilist, who hails from Grand Rapids, Michigan, acquired the property through a limited liability company called Michigan Skating, records show. He has apparently renamed it Skate Rock City and is holding open skating from 7 to 10 p.m. the first Monday of each month, according to the rink's Instagram page," stated the Las Vegas Review Journal. 
Floyd Mayweather, known for his impressive boxing record, has reportedly been known to have an interest in buying the skating rink for some time. Mayweather contacted his real estate agent Tanasha Pettigrew, and helped him work out the details for the major purchase. The skating rink, known for fun times and school field trips throughout the area, spans 25,900 square feet. Mayweather was interested in broadening his real estate portfolio and thought that the classic roller rink was the perfect fit.
"Poole, who did not return a call seeking comment Monday, previously told the Review-Journal that Mayweather and his family had been skating at the rink for years," reports the Las Vegas Review Journal. 
Along with boxing, one of Mayweather's favorite things to do is enjoy skating. Mayweather and his family have visited the skating rink multiple times over the past few years, and very recently the seller thought it appropriate to retire. The rink had been open since 1986, and had built up a reputation of a fun place to go for kids in the 80s and 90s who didn't have much to do in the area. 
"Known for hosting birthday parties and various other group gatherings, the listing also notes that Crystal Palace Boulder's recreational venue is fully equipped with a snack bar, tables and benches, video games and lockers," states fox5vegas. 
Being one of only two skating rinks in Las Vegas, the roller rink has gotten a brand new upgrade, and skating fans can expect to see more improvements in the future. To be able to enter the rink, customers must be at least 18 years old or older. Any further details about the newly bought and upgraded roller rink can be found on Skate Rock City's Instagram page.