Amanda Gorman Signs With IMG Models and Reads Poem at 2021 Superbowl
Amanda Gorman, the steadily rising star from Los Angeles, has become an internet sensation as she impressed the masses with her viral poem called The Hill We Climb at President Biden's inauguration on January 20, 2020. But although the Harvard graduate has become known for her impressive poetry skills, she has started to be seen as an influential figure for the next generation, and as a look to the future for America. Her hard work at the issues that matter most to her have finally taken light, and she's been rewarded greatly for her efforts.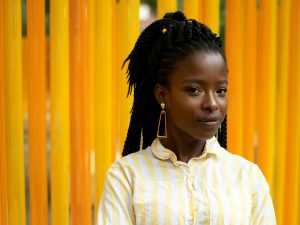 "The 22-year-old US national youth poet laureate, has already become a fashion sensation. The red satin Prada headband she wore during the inauguration ceremony led to the item selling out, while her yellow coat (also Prada) caused searches for "yellow coats" to increase 1,328% (according to fashion search engine Lyst) in the wake of her appearance," states theguardian.com. 
In addition to being praised for her bold outfit at Biden's Inauguration, Gorman signed with IMG Models, which is the same brand that tennis star Naomi Osaka and famous models Cara Delevingne, Kate Moss, and Ashley Graham work with. Many famous people have taken to social media and other platforms to congratulate Gorman on her success, calling her an inspiration. Many look forward to seeing more from the 22-year-old, and to everyone's luck, she didn't stop.
"A video of Gorman performing her poem, "Chorus of the Captains," was played ahead of the three heroes' introduction on-field. The young poet has seen immense success in recent weeks following her inaugural poem, having been signed with IMG models just days later, as well as interviewed by Michelle Obama for Time Magazine," says cnn.com. 
Recently this month at the 2021 Super Bowl, Gorman was seen reading her new poem Chorus of the Captains, which was a tribute to the front-line heroes of the Covid-19 pandemic who are risking their lives. As well as signing with a modeling agency and reading her new poem at the Super Bowl, she was also recently interviewed by former first lady Michelle Obama. The pair had met twice before and talked about a range of topics, including art, representation, and identity.
"You really have to crown yourself with the belief that what I'm about and what I'm here for is way beyond this moment. I'm learning that I am not lightning that strikes once. I am the hurricane that comes every single year, and you can expect to see me again soon," stated Amanda Gorman at the end of an interview with Michelle Obama from time.com.