Peeps Officially Coming Back Just in Time for Easter
The beloved Easter candy Peeps is finally making its return this year. Peeps have been around since 1953 but shut down all productions of the candy in 2020. This was because of the "rapidly evolving COVID-19 situation." The company did not release any peeps on Halloween or Christmas, as well as any themed shaped peeps on these holidays. Earlier this year they tweeted that they were "counting down to Easter" and also showed the production of peeps starting up again all for their favorite holidays.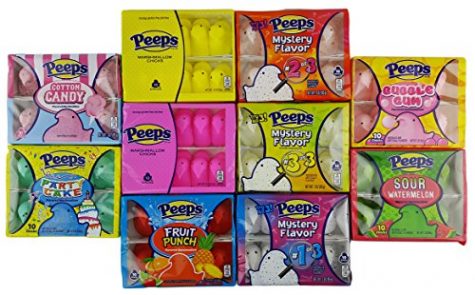 There are so many different peep flavors that a customer can choose from and they make new flavors very often. The two new peep flavors this year are Hot Tamales (Fierce Cinnamon) and Froot Loops Flavored Pop. Even if someone isn't a fan of this marshmallow treat, they can always try any flavor that seems good. Before the productions of the candy were put on hold, it is said that over 1 billion peeps were made each year. Peeps are very popular during Easter and have made it onto the list of the most popular Easter candies for more than 20 years.
There are sugar-free peeps for those who don't like their marshmallow treats that sweet, and they also have chocolate-covered peeps for all the chocolate lovers out there.
Before all of these types of peeps, there was the original yellow peep. The yellow peep is still a favorite along with the yellow bunnies that they sell. Pink is the second most popular color. They also used to come with wings on them but were taken off due to wanting to give the candy a more "modern" look.
The recipe and equipment used for the candy have mostly stayed the same since it was first created. The recipe that they use to make peeps is listed as: starting with boiling granulated sugar, liquid sugar, and corn syrup, to which gelatin and vanilla extract are later added.
It is astounding how they have not run out of different types of flavors to make for their candy. They now come in an assortment of not so common flavors such as pancakes and syrup, gingerbread, cotton candy, root beer float, chocolate pudding, etc… Customers should be sure to keep an eye out for these delicious marshmallow candies on Easter and go see what new flavors they can find.