The Need For Speed: The World's Fastest Roller Coaster
Falcon's Flight will become the World's Fastest Rollercoaster in 2023 according to CNN Travel and Thrillist. The new roller coaster will be located in the Qiddiya, Saudi Arabia Six Flags which has not yet been completed. 
Not only will it be the world's fastest roller coaster it will also become the highest and will have the longest track. It will have a height of 525 foot vertical cliff, and have a track length of 2.5 miles. The roller coaster itself will hold up to 20 passengers and it will be a 3 minute-long ride. 
"Six Flags Qiddiya is one of Six Flags' most ambitious international projects to date. When it opens in early 2023, it will be part of a larger revitalization project aiming to turn an area of Riyadh into a globally recognized resort destination," states Thrillist.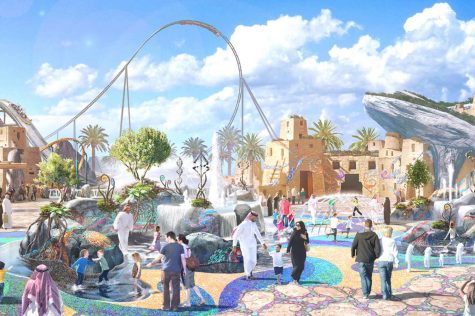 At its fastest point it will break through a rock tunnel, with red and yellow light circles. The coaster is still in the design phase and it is already wowing people around the world with the 3 world records it will be breaking. The amusement park will also hold the world's tallest drop tower named Sirocco Tower. 
"As for the park, Six Flags Qiddiya will feature 28 rides and attractions across six themed lands: The City of Thrills; Discovery Springs; Steam Town; Twilight Gardens; Valley of Fortune; and Grand Exposition. Appropriately, the Falcon's Flight will be part of the City of Thrills, along with Sirocco Tower, which will be the world's tallest drop-tower ride," wrote CNN Travel. 
"The Falcon's Flight is being designed by Intamin. Headquartered in Liechtenstein, it's been creating theme park attractions for over 50 years and is behind many of the world's most famous rides," explained CNN Travel.
Video Courtesy of: Thrillist.com
The 3 world records the new coaster will be breaking are in 3 different parts of the world including Abu Dhabi, New Jersey, and Japan. The fastest roller coaster, The Formula Rossa, is located in Abu Dhabi's Ferrari World and it goes 149 mph. The tallest roller coaster made of steel is also made by Intamin, and it is Kingda Ka in New Jersey. It stands at 456 feet. Finally, the longest roller coaster is the Steel Dragon 2000 made by D.H. Morgan Manufacturing. It is located in Nagashima, Kuwana inside Japan's Nagashima Spa Land with a track distance of 1.54 miles. 
Falcon's Flight will break 3 world records and the main goal is to draw attention to the new Six Flags, so it becomes a globally recognized resort destination. Even though the amusement park doesn't open for another few years, it will definitely be one to visit for all thrill seekers.