Brian Head-Staying Safe on the Slopes
Brian Head Utah is a popular snowboard and ski resort that many Shadow Ridge students often go to. Brian Head, like many establishments, has had to make some adaptations to keep guests safe while still providing an enjoyable experience.
According to the Brian Head website they require guests to wear masks when indoors, in line for ski lifts, or when "social distancing with others outside of your travel group is not possible."
They have also requested that guests purchase lift tickets ahead of time to guarantee a spot on the mountain. 
Juniors Ellie Reese and Isabella Stosich went up to Brian Head with a couple of friends early last Wednesday morning when school was out. The ski lifts open at 10 am and close at 4 pm, so they were able to spend the whole day on the mountain. 
"My friends and I wanted to do a day trip to go snowboarding at Brian Head so we packed up and left at three in the morning so we could be on the slopes all day," explained Stosich.
Reese has gone up to Brian Head a couple of times in the past to ski but she has never been snowboarding. With many of her friends heading up to snowboard for the first time she thought it would be the perfect time to try something new and get out of the house.
"I've skied since I was in the 5th grade but some of my friends were trying snowboarding for the first time so I thought I would join them in the embarrassment!" says Reese. "[It was fun] just being able to get out of my house and get moving while staying safe,"
Freshman Paige Martinez also made her way up to the mountain with her family to snowboard on the 11th and 12th of this month. Her parents surprised her and her siblings with a four-day trip to Brian Head where they stayed at an Airbnb and spent two days snowboarding.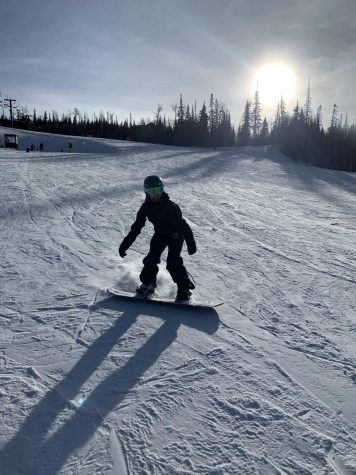 "This was my first time at Brian Head and my first time trying a snow sport, I've never snowboarded or skied before this trip," stated Martinez.
Since it was her first time trying a snow sport, part of the present from her parents was being able to take snowboarding lessons. Martinez and her sister, along with two other teens took lessons from a Brian Head instructor where they learned the basics of snowboarding. 
"Being able to take lessons was really helpful cause no one in my family really knew what they were doing," explains Martinez. "During lessons, we also kept our masks on and socially distanced whenever possible so everyone was safe,"